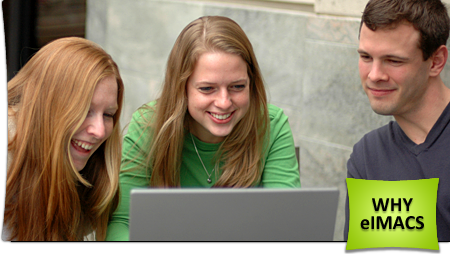 A Tradition of Excellence
Exciting Online, Interactive Mathematics and Computer Science Courses
The Institute for Mathematics and Computer Science (IMACS) welcomes you to its online learning facility, dedicated to delivering the highest quality interactive math and computer science classes for gifted and talented middle and high school and undergraduate students.
World-class and Innovative Curriculum
IMACS has been developing and administering the highest quality curriculum for over 20 years. Our research and teaching institute headquartered in South Florida continues to add new courses to its already impressive course catalog.
Parents
At eIMACS, we believe that gifted and talented children are more likely to achieve their potential with instruction that matches ability rather than age. Our experienced and dedicated instructors challenge students to think in ways that a typical high school computer science or math class would not. It's why students who have taken our courses over the years have consistently gone on to successful careers in science, technology, engineering, and math (STEM) among other fields. To learn more about how you can give your child the eIMACS advantage, sign up for our free aptitude test.
Students
Bored with math class? Looking for a course that goes beyond just coding to teach computational thinking? Check out eIMACS where young minds from across the globe are encouraged to design their own path by exploring deep subjects in a fun and interactive way. From classes that sharpen your logical reasoning skills to ones that help prepare you for the AP Computer Science exam, our self-paced online courses will challenge you at your ability level. Your intellectual adventure begins with our free aptitude test.

Educators
As technology redefines the way math and computer science are taught, eIMACS remains a leader in the field with world-class curricula, such as our AP Computer Science course, available for licensing. Educators looking to build or strengthen students' logical reasoning and critical thinking skills will find success with our courses in mathematical logic. Let our flexible and supportive education management system handle everything from administrative work to curriculum development so that you can focus on engaging the gifted and talented students in your classroom.

Are you searching for ways to supplement your child's education that are meaningful and challenging? eIMACS offers a variety of courses for secondary school students that will stimulate their minds.Find out more

If you love math, computers or related fields, eIMACS has classes designed just for you. With Advanced Placement materials to university-level courses, eIMACS enables bright students to create brilliant opportunities for their future.Find out more

IMACS offers a variety of options to teachers looking to supplement their curriculum or meet the needs of advanced students. Whether challenging one or two students or licensing curriculum for entire classrooms, eIMACS offers many options for professional educators.Find out more
Learn More

An IMACS student since 5th grade, Brett scored a perfect 800 on the math section of the SAT and received a scholarship that paid for 2/3 of his college tuition at Emory University.

An IMACS student since 4th grade, Danielle was class Valedictorian, accepted the National Merit and Bloomberg Scholarship awards, and is majoring in mathematics at The Johns Hopkins University.

An IMACS student since 3rd grade, Jennifer received a perfect 800 on the SAT Math and was accepted to MIT, Wharton School of the University of Pennsylvania, University of Chicago, and Duke University.

An IMACS student since 3rd grade, Scott completed his undergraduate mathematics requirements at Yale University before his sophomore year and is now at Harvard Law School.

An IMACS student since 5th grade, Ryan completed the IMACS Computer Science program. He was exempted from all undergraduate computer science courses and is now working on his PhD at MIT.