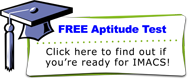 Contact eIMACS for More Information
Have a question or comment? Complete the fields below, press Send, and we'll answer your inquiry ASAP!
Please provide your email address so that we can reply to your inquiry. If you would like us to call, please also provide your phone number and a suggestion for the best time to contact you.
You may also reach us by email at info@eimacs.com or at:
IMACS Headquarters
7435 NW 4th Street
Plantation, FL 33317
Phone: (888) 776-2345
Fax: (954) 791-0260