---
PLANTATION, Fla., Mar. 6, 2019 — Representatives from the University of Florida (UF) and Florida Atlantic University (FAU) met with more than 150 middle school students and parents in Broward County Public Schools (BCPS) last week to describe the exciting opportunities they are offering to graduates of Broward's Elements of Mathematics: Foundations (EMF Math) program.
EMF Math is an online curriculum that teaches pre-algebra through precalculus plus advanced topics in modern mathematics to students in grades 6-8. BCPS, the sixth largest public school district in the US, is in its fourth year of offering the program to bright students across a diverse mix of 31 middle schools. Schools and districts interested in licensing EMF Math should contact the Institute for Mathematics and Computer Science (IMACS) at https://www.EMFmath.com/schools.
Many of the Broward's EMF Math graduates are excelling as ninth graders in either Calculus I/II at UF through its dual enrollment program or in Advanced Placement Calculus at their local public high schools.
Brandon Case, UF's Coordinator for Curriculum and Special Programs, said that EMF Math gives BCPS students early access to UF's dual enrollment program. "They are programs primarily for [high school] juniors and seniors," noted Case, "But we've worked with the district, and EMF students are allowed to participate for one math course per term as of their freshman year."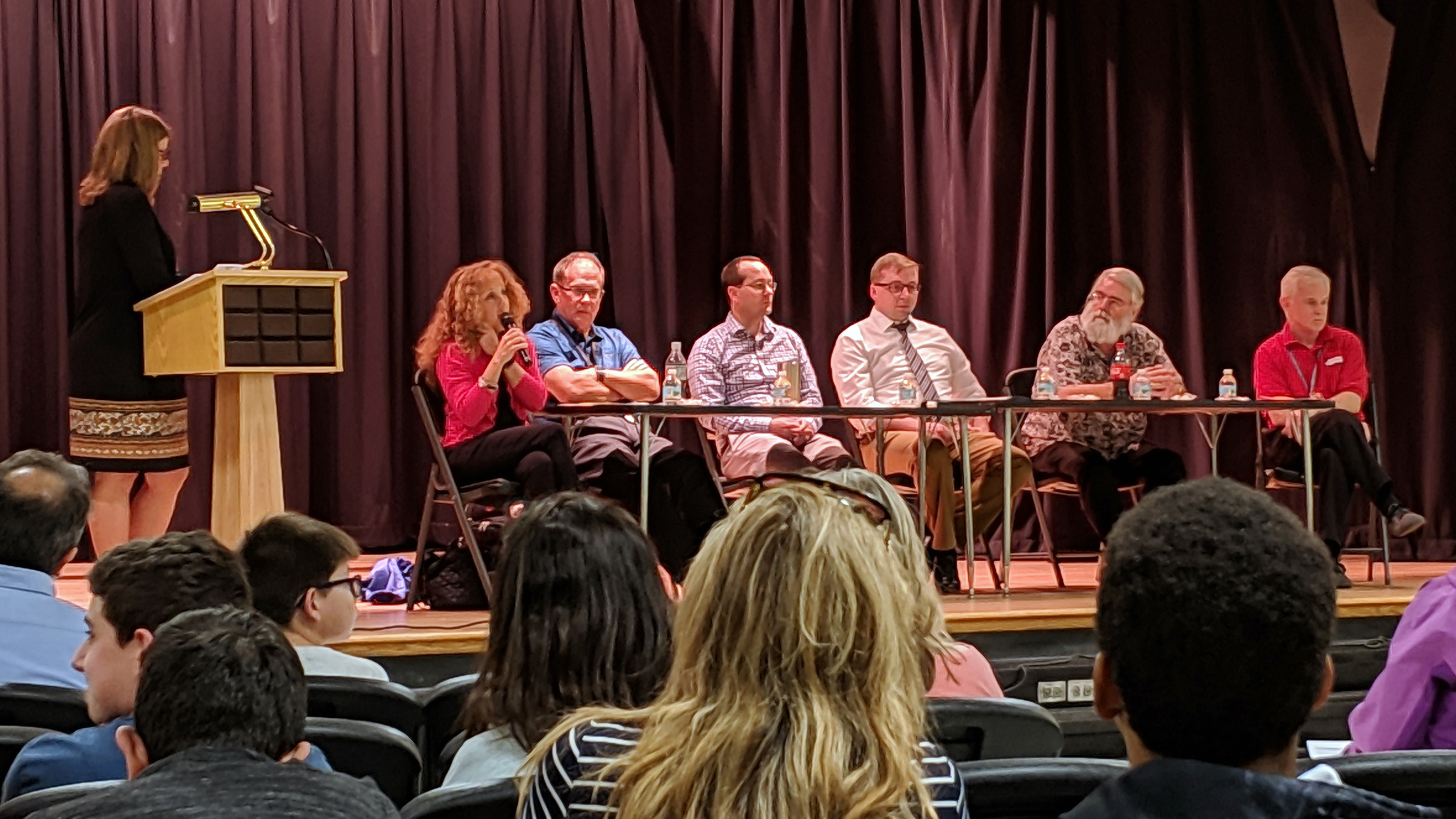 According to Case, the first cohort of EMF Math graduates taking UF Calculus I/II are, broadly speaking, doing quite well. Ninth grader and EMF Math graduate Zachary Weissman completed UF Calculus I with an outstanding grade of 106%. "I absolutely loved Calculus I, and I am enjoying Calculus II," said Weissman. "I believe this program will be extremely beneficial for the EMF eighth graders, and I strongly recommend it."
Andreas VanDenend, Assistant Director for UF's Online Dual Enrollment Program, described the support system that UF provides to EMF Math graduates. "At the University of Florida, we do a whole lot for the students to make sure they are not drifting around in UF systems," he assured parents. "We make sure students have their right login, their UF identification number, all that they'll need to get started on the first day of class."
Professor Stephen Locke, Associate Chairman of the Department of Mathematical Sciences at FAU, noted that EMF graduates can take dual enrollment classes during the summer at FAU. Some parents thought this might be an attractive option for students who want to take classes that UF doesn't offer online or who would like to have a local professor.
Parents in attendance were mainly seeking advice on navigating the uncertain road of high school and college coursework. Many of them found the presentations to be very informative and appreciated that these universities were already taking an interest in their middle school children.
IMACS is currently offering schools and districts the opportunity to provide the first EMF Math course to an unlimited number of students at no cost. Teachers and administrators may request access by registering at https://www.EMFmath.com/schools.
About IMACS
The Institute for Mathematics and Computer Science is an independent teaching and educational research institute with centers in South Florida, North Carolina, Missouri and Connecticut. Over 4,500 students from across the US and around the world attend local IMACS classes or study its online courses. For more information, visit https://www.imacs.org/.
Media Contact
Natasha Chen
Institute for Mathematics and Computer Science
info@EMFmath.com
954.791.2333

---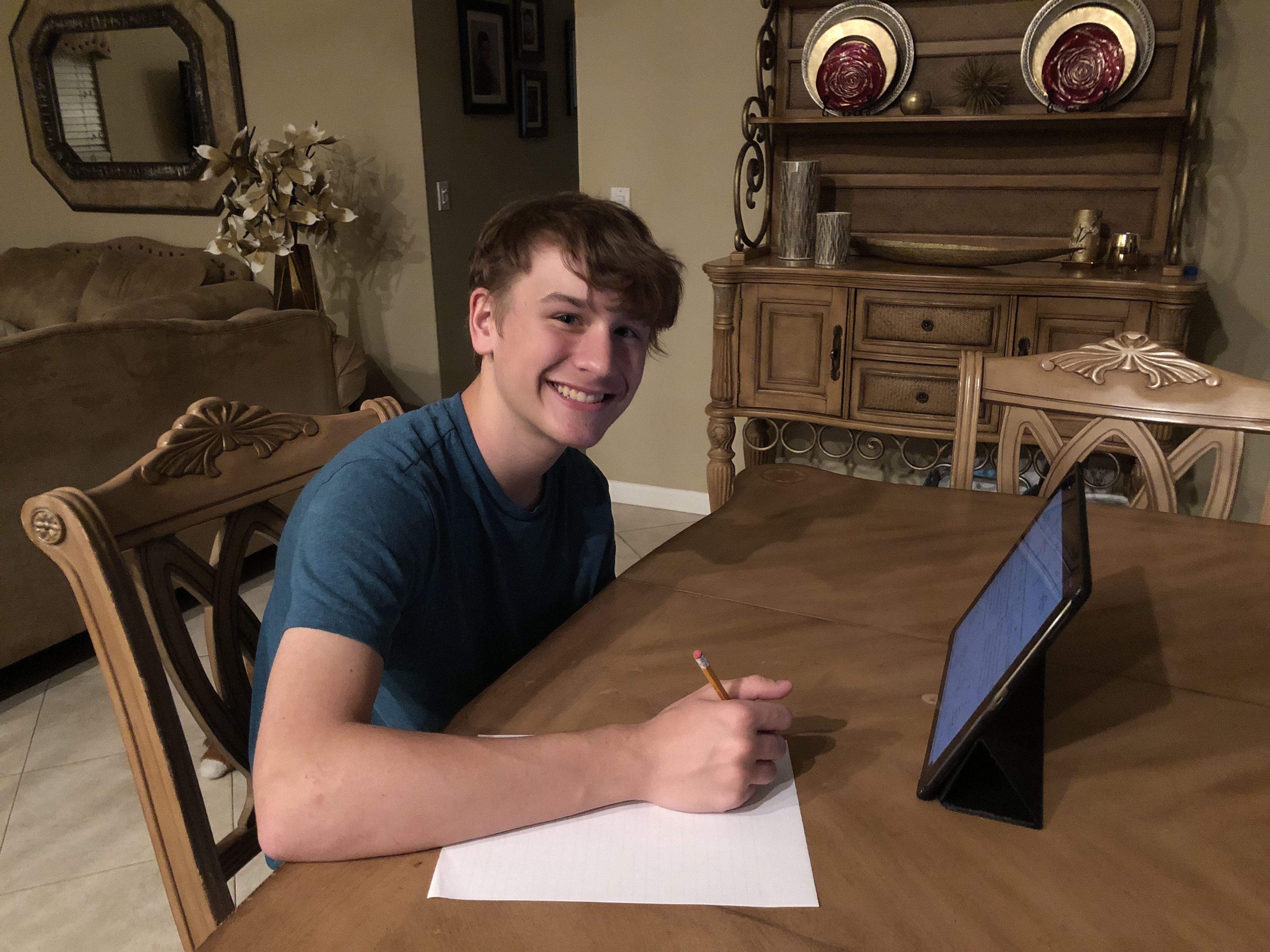 Cole Travers completed the EMF Math program during grades 6-8 through his public school district. He wrote the following guest blog post in which he compares EMF with a traditional high school math class and explains why EMF was excellent preparation for college.
Throughout my three years in EMF, I got to learn mathematics in the way that a mathematician understands it. Now that I am in 9th grade and in a traditional math class, I can compare this experience to my EMF experience. The main difference is that EMF focused on the why of math, while traditional classes focus on the how of math.
In EMF, I was not just given statements of mathematical laws and properties and told to use them. EMF always made those formulas available, even during the major tests at the end of sections. Instead, I actually had to prove why they are true using logic. Proofs challenged my perspective on math and while they made math many times more difficult, they also made it many times more enjoyable and satisfying.
My EMF experience made me want to keep learning the "why" behind the formulas and graphs that I see now in my traditional class, but, unfortunately, I don't get to do that. To do well, I simply memorize a few formulas or graphs and apply them on homework, periodic quizzes, and unit tests. I can forget them as soon as we're done with the unit, because they never come up again.
At first, the more challenging part of a traditional class was doing a lot of calculations quickly. In EMF, quizzes and tests were untimed due to their difficulty and the unimportance of speed in true mathematics. Now I have one class period, or around 45 minutes, to finish a quiz or a test. At the beginning of the semester, using formulas two dozen times in 45 minutes was not something I was used to. But after a short time and a little practice, it got easier. I also now see that going the other direction — understanding concepts deeply when you've been taught to be fast — is much harder.
Because I only have to memorize and apply formulas in my traditional class, the advanced skills that I learned in EMF — digging deep into a concept, solving problems creatively, and writing proofs — are not directly applicable right now. EMF certainly does not hurt in any way, and it will help in college math courses because they are more about actually understanding math. Plus the advanced material in EMF just made it really interesting. I probably would have been completely bored in math all through middle school if I had not been in EMF.
Another difference is that in EMF, the ideas were interconnected and made sense as part of a bigger picture. As I learned new concepts in EMF, I also learned how they linked back to previous concepts. In order to solve EMF's most complex problems, I usually had to bring old and new ideas together and come up with a new way to apply them.
On a related point, how I learned to think in EMF actually helps me in classes other than math. The way EMF taught me to delve deeper and to layer new knowledge onto prior knowledge enabled me to do better than many of my peers in Biology Honors, for example. As with EMF, this is quite a challenging class and the material builds on itself. EMF helped me in ways bigger than mathematics by teaching me how to learn difficult subjects. I think I will be much better prepared to succeed in college because of EMF.
Current EMF students should feel confident that they will do well in traditional high school math classes, even though these classes are very different from EMF. Understanding the material in high school math classes isn't hard at all. Students just have to use a different approach, mainly memorization and application. I would encourage middle school students to enjoy EMF as much as they can because it is definitely the most interesting way to learn math that I have ever experienced.
More Commentary by EMF Graduates
EMF Reflections by Alumna Isabella Yeung
EMF Insights by Olivia
EMF Math is an online curriculum designed for talented middle school students. EMF covers Pre-Algebra, Algebra I, Algebra II, Geometry and Precalculus, plus advanced topics in modern mathematics. Would you like your public or private school to offer EMF? Share EMF school licensing information with your school's math curriculum specialist. For EMF news, like EMF Math at facebook.com/emfmath.

---
IMACS celebrates influential career of co-founder Edward C. Martin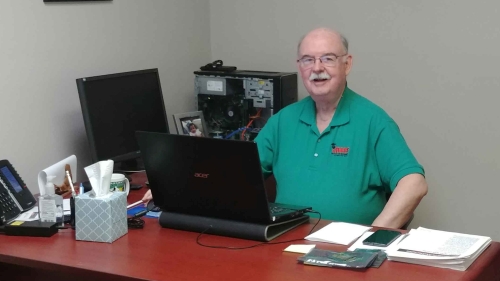 It is with bittersweet emotion that the co-founders of the Institute for Mathematics and Computer Science (IMACS) announce the retirement of partner, colleague, teacher and friend, Edward C. Martin. Ed has enjoyed a prolific career of nearly 50 years in mathematics education. What follows is a modest attempt by two of his students to share highlights of a life dedicated to inspiring young people through his exceptional writing and teaching to study mathematics.
For Ed, the most rewarding part of his career has been "witnessing students come to the realization that mathematics is a big, wonderful, logically-connected, all-encompassing, intellectually satisfying Garden of Earthly Delights." If you were fortunate to have been a student or colleague of Ed's, please take some time to leave a comment with your memories and wishes for retirement. He will enjoy reading every word!
From Cornwall to Cambridge
If there were ever a child destined to become a magical mathematician and teacher, it would be Edward C. Martin. The first auspicious sign of Ed's future career came in 1948 when he was born in St. Ives, Cornwall, England, a town that is the subject of the famous arithmetical riddle As I Was Going to St. Ives:

As I was going to St. Ives,
I met a man with seven wives,
Each wife had seven sacks,
Each sack had seven cats,
Each cat had seven kits:
Kits, cats, sacks and wives,
How many were there going to St. Ives?

As a young student at St. Ives County Primary School, Ed found math to be "very routine." Nonetheless, it was important to do well because in England at that time, a compulsory, nationwide exam determined whether a child would attend an academic secondary school with an emphasis on university preparation or a school akin to a trade school. Ed's family actually moved to Brighton around this time, but he stayed in St. Ives with his grandparents to minimize any disruption in the year before the all-important exam.
After the exam, Ed joined his family in Brighton. His scores earned him a spot at the Varndean Grammar School for Boys where his father was a math teacher. Four years later, his father began teaching math at Worthing High School for Boys, and this is where Ed completed high school.
Ed credits his father, who was his math teacher during his last two years of high school, as the person from childhood who most influenced him to study mathematics. During this time is when the subject started becoming really interesting to him. "We were preparing for the nationwide final high school exams and the special entrance exams to Oxford and Cambridge," Ed recalls. "It was the mental challenge I enjoyed rather than anything else."
Interestingly, Ed's father never addressed him by name in class, opting to call him "you" instead. But their bond was clearly a special one. "We would laugh ourselves silly over some incident that had occurred in math class that day, much to the bemusement of the rest of the family, who could understand neither what we were talking about nor why it was so funny," remembers Ed.
Cambridge University
After high school Ed attended Fitzwilliam College, one of the colleges that form Cambridge University. Unlike in the United States, a college student in Britain concentrates on one area of study and takes courses related only to that subject. Of course, Ed studied all courses in mathematics! At the time, the Department of Pure Mathematics and Mathematical Statistics was housed in an old multi-story building surrounding a quadrangle near the center of town in Cambridge. "It always amused me that, as you left the complex and went out onto the street outside, there was a notice on the archway that said 'You are now entering the real world'," recalls Ed with a smile.
Throughout his years at Cambridge, Ed studied under several famous mathematicians, including John Horton Conway, Peter Swinnerton-Dyer and John Willis. Ed fondly recalls his weekly one-on-one tutoring sessions with Professor Conway. Ed was Conway's student at the time Conway was working on one of his most famous discoveries, the classification of simple groups.
"On one occasion when I arrived, he was obviously very excited," Ed recalls. "So I asked him what was going on." Conway hadn't gotten any sleep the previous night because his bath had been interrupted by a phone call from Fields Medal winner Professor John G. Thompson, then of the University of Chicago, who wanted help in analyzing a new discovery. So Conway jumped out of the bath, sat down soaking wet at his home office desk, and worked right through the night!
"I asked him what was involved in this work, and he explained that it could be thought of in terms of packing spheres in 24 dimensions," Ed continues. "Of course, I was none the wiser! Incidentally, I subsequently learned that there is great significance in the fact that 24 dimensions are involved. It's an amazing fact that the only natural number n such that 12 + 22 + 32 + … + n2 is itself the square of a natural number is 24." (The sum is in fact equal to 702.)
The Making of a World Class Teacher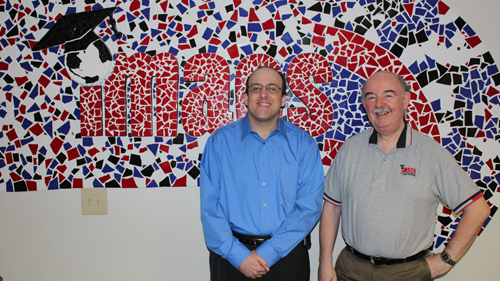 After graduating with his bachelor's degree in May 1969, Ed did something completely unexpected but probably a lot of fun! He and two friends bought a Land Rover and spent three months driving through southern Europe. They traveled far enough to roam around northwest Africa and the northern limits of the Sahara Desert.
Upon returning home from this adventure, Ed learned that his father had enrolled him in a one-year postgraduate teaching course at Cambridge, so Ed headed back to school to pursue his teaching degree. There he met Alan Bishop who led the teaching course. Ed credits Bishop as someone who was "very influential in molding me into the kind of teacher that I am, emphasizing that there's more to it than simply imparting knowledge."
During the decades to follow, Ed would go on to become a respected and beloved teacher of over 1,700 students, not counting the many more who benefited from the textbooks and online courses he wrote and edited. Whether in a classroom or online, Ed's students know him to be the kind of teacher who brings clarity to complex ideas without watering down the rigor. He can instantly see the flaws in a student's thinking and knows just what and how much to say to get a student back on track. In fact, one of those lucky students, Terry Kaufman, would one day co-found IMACS with Ed.
Terry remembers when Ed was his high school teacher for a college-level linear algebra course. "What I remember so vividly was that he would give us class time to work on our assignments, and he would sit at the front of the class with a loose-leaf notebook on his teacher's desk. Whenever one of us would need help with a challenging problem, he would open his notebook, which contained copious notes he had taken in his college courses. The notes were so meticulously taken and in such small print that today it would appear to look like they had been printed at about an 8-point font. It was amazing how he always found the information needed to help us with our questions from within his notebook."
Fate and the First Job
As Ed completed his postgraduate year at Cambridge, he applied to various American universities, seeking a graduate assistantship while simultaneously studying for his PhD in mathematics. The chairman of the math department at Southern Illinois University (SIU) received one of Ed's applications and noted that he was qualified in both mathematics and education. As fate would have it, the SIU math department did not have the funds to hire Ed, so the chairman forwarded Ed's application to Burt Kaufman.
At that time, Burt was director of the Comprehensive School Mathematics Program (CSMP), a federally-funded development project tasked with writing mathematically rigorous textbooks for talented middle and high school students. These books, which covered most of an undergraduate degree in mathematics, would eventually become known as the Elements of Mathematics (EM) series.
Burt was looking for an editor who could bring consistency to the EM books. Up to that point, each year a different visiting professor would spend a sabbatical year working with Burt's team to write and then test out the material with actual students. "These professors all had different writing styles and didn't have much, if any, experience working with secondary school students," explains Terry, who was also Burt's son.
As Terry recalls, his father decided to hire Ed sight unseen. In fact, the day that Ed received the reply from SIU explaining that there were no funds to hire him was the very same day that he received the offer letter from Burt. "The letter indicated that one of the CSMP advisors was on sabbatical in London, and I could go and interview him if I wanted to," remembers Ed. "This I did, and we got on very well together." Ed accepted Burt's offer, which was unconditional, and began working as a Teacher/Writer in August 1970.
Comprehensive School Mathematics Program
The work of writing the original EM books had begun in 1966. So by the time Ed joined the effort in 1970, he had the daunting task of taking four years of material written by multiple authors and smoothing everything out from a stylistic point of view, introducing cross-references between the books, and ensuring that they all had complete answer keys.
"At one point, it was decided that the approach to set theory used in the advanced college-level books should be changed," recalls Ed. "So we commissioned a new author to rewrite the book in question, and I then had the task of editing his work into what was by then EM style as well as chasing down every place in later books that referenced axiomatic set theory and editing them to match the revised approach."
By the time Ed was promoted to Senior Editor of the EM series in 1974, math teachers across the US had heard about these uniquely engaging textbooks. CSMP offered summer workshops to train teachers on the EM materials, and among Ed's responsibilities were helping to run the workshops. After attending these workshops, a number of teachers started using the EM books in their classrooms. Ed then provided ongoing professional development support during the school year.
Without a doubt, Ed's profound influence on math education has rippled throughout the decades as the teachers he trained went on to bring the EM approach to students across the US, a number of whom became math educators themselves.
High School of Glasgow
Ed's exceptional teacher-training abilities did not go unnoticed. In 1976 he was recruited by the High School of Glasgow to come in and disrupt the way mathematics was being taught at the school. "The headmaster, who also had a background in math, realized that his math department was not keeping up with current thinking in mathematics education," explains Ed. "So I was charged with retraining the math teachers and improving the quality of math teaching at the school."
Teachers who disagreed with the change either left or tried to preserve the status quo by complaining that Ed's approach would not work with underperforming students. Undeterred, Ed volunteered to teach all the weaker students and showed that these concerns were unfounded. "Things turned around markedly during the six years I was there," he is pleased to say.
In his spare time and on weekends, Ed continued to work remotely as Senior Editor for CSMP. During summers he would return to the US to focus on editing the EM books and training teachers on how to use them.
University of Bath
Ed's next big challenge came in 1982 when he was asked to lead the development of a new mathematics curriculum for British secondary schools. This project with national implications was funded by textbook publisher Addison-Wesley and hosted at the University of Bath. As head writer, Ed's job was to train a team of eight other writers in the art of textbook writing, to do some of the writing himself, and to do all the final editing and preparation for publication. "I'm proud of the math curriculum we produced," says Ed, "because it represented a fresh and exciting deviation from the curriculums that were common at that time."
While at the University of Bath, renovations caused Ed to have to share an office with computer scientist Iain Ferguson who was working on a different research project hosted at the university. This was surely a serendipitous allocation of space because the professional collaboration between these two scholars would come to last more than 30 years and continues today.
"In my first memory of collaborating with Ed, I was working on ways of displaying demographic and other geographic information on early desktop computers while he was editing a mathematics textbook," recalls Iain. "I needed an algorithm for choosing which pixels to light up to draw a line across a screen." Ed came to work the next day with such an algorithm, but Iain noticed immediately that something wasn't quite right. After Ed gave it a few tweaks, it worked like a charm!
"Maybe that story typifies our collaboration over the years, with each of us feeding off of ideas from the other," says Iain, "although I unequivocally attribute all the best ideas to Ed."
Project MEGSSS of Broward County, Florida
In 1985 while at the University of Bath, Ed was again recruited by Burt Kaufman who was then heading up an effort in Broward County, Florida to teach the EM curriculum in a large, diverse school district.
Ed mentioned to Iain that he was thinking of accepting Burt's offer to move to Fort Lauderdale and teach advanced mathematics to talented middle and high school students. "He gave me a couple of the old EM books to peruse," recalls Iain. "I was astounded that anyone would try to teach mathematics of that type to students so young." Iain was so intrigued that he convinced his then-fiancé-now-wife to emigrate to the US so that he could join Ed and Burt in this ambitious program known as Project MEGSSS (Mathematics Education for Gifted Secondary School Students).
Ed, as well as Iain, found the work to be very demanding but ultimately rewarding. While much of their time was spent planning lessons, teaching classes or grading papers, every spare minute was spent developing new material. "Burt insisted that what Iain and I produced should be good enough to teach him everything he needed to know to be able to teach these subjects to his students," says Ed. "This was no small task because Burt's lesson planning was meticulous and voluminous."
The MEGSSS students certainly benefited from what was then a rare opportunity to study modern mathematics with some of the best teachers in the world. On one memorable occasion, some of the students came up with original solutions to puzzles from the book To Mock a Mockingbird by mathematician, philosopher and author Raymond Smullyan. They sent their solutions to Smullyan who later telephoned Burt to offer his congratulations!
For Ed, the best memories of MEGSSS are of the great kids that he got to work with, a good number of whom still keep in touch with him. Many went on to attend some of the most prestigious universities in the country followed by PhDs or accomplished careers in a wide variety of industries. Some are even parents of a new generation of EM students. In one of those "small world" moments, one of Ed's star MEGSSS students ended up collaborating on research during his post-doctoral studies with a professor whose high school math teacher had attended Ed's CSMP training workshops!
An official accolade was in the mix too. In 1993 Ed was one of 24 teachers nationwide to be honored with the Mathematical Association of America's Edyth May Sliffe Award for Distinguished High School Mathematics Teaching.
Despite its successful track record for turning out some of the brightest math students in the country, MEGSSS was eliminated due to Florida's statewide budget crisis in 1992. The project wound down at the end of the 1992-93 school year.
Institute for Mathematics and Computer Science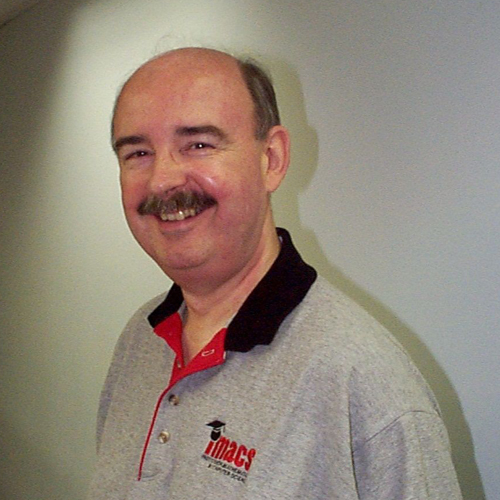 With such highly valued knowledge and skills, Burt, Ed and Iain could have easily pursued lucrative careers in the nascent technology industry that was just then witnessing the rise of America Online. Instead, they joined with Terry to establish IMACS in July 1993 with the goal of making the Project MEGSSS curriculum available as an after-school enrichment program.
Their complementary skill sets made them an effective team. "Ed is an amazing mathematician, Iain is a computer science wizard, and my father was an outstanding teacher with the vision for what was possible," explains Terry. "I was the only one with any business experience, so I handled all operations and financial aspects of IMACS while learning from my father how to teach various aspects of our curriculum."
What started with just 37 students in Plantation grew steadily to over 1,000 local students at four dedicated teaching centers and seven on-site school locations across South Florida. IMACS is also among the pioneers of distance-learning programs for precocious youth, having launched its first online course in 1998. Since then, over 30,000 students across the world have benefited from studying IMACS' online curriculum.
Looking back at the company's steady growth over the past 25 years, one might think that success was a foregone conclusion. Not so! "Founding IMACS was a fairly heart-stopping venture," recalls Ed. The four partners took no salary for two years while recruiting a small part-time workforce and trying to attract local students. It was during those early days that they developed the IMACS Mathematics Enrichment curriculum based on books that Ed and Burt (along with two CSMP advisors) wrote back in the 1970s.
To create curriculum that is original, unique and engaging for bright and curious students requires tremendous labor and ingenuity. Luckily IMACS had Ed. "He was the key contributor to so many aspects of our curriculum development. We always knew we could count on him to solve any challenge," recollects Terry. "As I learned working with Ed at IMACS, he could explain almost anything on any topic. In fact, I often refer to him as our Google before there was Google because if we needed to know anything, we would just ask Ed."
Ed's mathematical brilliance and all-around problem-solving skills would prove to be invaluable once again as IMACS pursued its most recent curriculum development project — the ambitious Elements of Mathematics: Foundations (EMF) online program for talented middle school students.
Elements of Mathematics: Foundations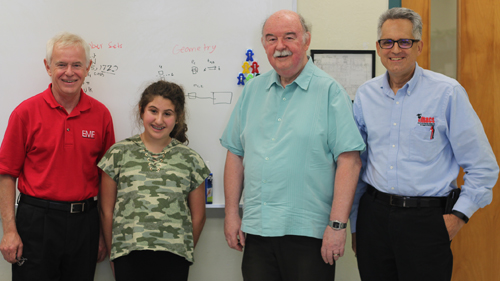 Ed's focus these past four years has been on developing the EMF online curriculum in modern mathematics for highly advanced middle school students. Launched in 2012, EMF leverages advanced web technology to make EM's Book 0: Intuitive Background material available anywhere in the world as an online, self-study program. This development is particularly important in locations where mathematically talented students have little or no access to appropriately challenging material or instruction that makes them have to think harder instead of merely work faster as with acceleration.
Change can be uncomfortable, as Ed knows from his time at the High School of Glasgow. "The primary difficulty was and continues to be the inertia that characterizes mathematics teaching in the US," laments Ed. Because EMF treats the subject as a unified whole built upon solid logical foundations, teachers would need to know how everything fits together and to be equipped for laying groundwork that allows for later developments to connect back. "It was partly because of the difficulty of finding suitably qualified teachers that we created EMF in the form of dynamic web-based courses supported by an online help forum," he explains.
EMF is currently licensed by a growing number of partner schools, school districts and after-school organizations that are looking for a cost-effective way to keep their most advanced math students engaged beyond what acceleration can offer. Having seen math education trends come and go over his career, Ed is all too familiar with how they squander the potential of bright students by failing to challenge them at their ability level. So it should come as no surprise that he would like to see the EMF program adopted by school systems all over the United States and around the world.
How can EMF students learn modern mathematics, much of it college-level, with no teacher? The secret is in the painstakingly drafted text, all of which was written or edited by Ed. Whether through timeless passages from the original textbooks or in newly written material, Ed's unparalleled ability to anticipate students' thought processes and to write for a young audience without watering down content are why talented and motivated students can learn from EMF as if a master were there teaching it.
It's amazing to think that the EMF curriculum, which started with mathematicians from around the world traveling to the US to work with Burt, is now online and traveling out through the internet to students in over 20 countries! Needless to say, Ed is very proud of the role he played in bringing to fruition the vision that Burt had back in the 1960s of a math curriculum that is worthy of the nation's and now the world's brightest young minds and that will prepare them for the needs of tomorrow.
Back Across the Pond
Following the completion of EMF's main development work this past summer, Ed and his wife returned to England where most of their families live. While he will continue to make occasional contributions to IMACS' curriculum development efforts and teach the most advanced online IMACS students, Ed is looking forward to devoting more time to musical composition, which gives him almost as much pleasure as his math education activities.
Of course, Ed is already missed at IMACS for many reasons, not the least of which is his British sense of humor. He's got some wickedly clever jokes! "Like the one about the three types of mathematicians — those who can count and those who can't," says Iain with an impish grin.
When someone accomplishes so much for so long, it's hard to imagine them retiring. But that time has come for Ed and deservedly so. "My hope is that he continues to be healthy and lives for many years to come," says Terry, "and that he continues contributing to IMACS for as long as he is able."
What has mathematics taught Ed about life? "A mathematical approach can often help to make sense of many of life's mysteries," he explains. "Thinking mathematically gives you an expectation that there will be linkages and underlying structure that will make it easier to see your way through whatever you might be facing."
Dearest Ed, thank you for this wonderful parting wisdom and for so much more than words can fully express. May your rest be anything but routine!
About the Co-authors
Skylar Gamberg is a 7th grade student from Weston, Florida where she lives with her parents and younger sister. Skylar attends Falcon Cove Middle School and is part of Broward County Public School's EMF program. She loves learning math and foreign languages. Skylar is grateful for the opportunity to work with Mr. Martin who has taught her much about mathematics, its history, and the lives of mathematicians, especially John Conway. Skylar credits Mr. Martin with influencing her future career choice and goals. She hopes to become a math teacher and a mathematician.
Natasha Chen was Ed's student during her 10th, 11th and 12th grade years in Broward's Project MEGSSS program. She went on to earn her BS in Mathematics as a Trustee Scholar at the University of Southern California followed by an MBA from New York University and career in finance. Natasha now balances her duties as Communications Director for IMACS with being the homeschool parent of an EMF and online IMACS student. She has fond memories of Ed's spellbinding lessons, especially on group theory, and his infinite patience.
Acknowledgements
The co-authors are immensely grateful to Ed, Iain and Terry for taking the time to answer their interview questions in detail. Special thanks go to Ed for organizing, editing and writing the foreword to Burt Kaufman: An Appreciation, which provided essential background material for this article.
Join tens of thousands of students who have benefited from Ed Martin's groundbreaking work in math education. Enroll in IMACS
after-school
and
weekend
enrichment classes, fun-filled
summer
camps,
homeschool
enrichment classes, or advanced
online
courses today!
Want EMF in your school? Share
EMFmath.com/schools
with the relevant decision-makers.

---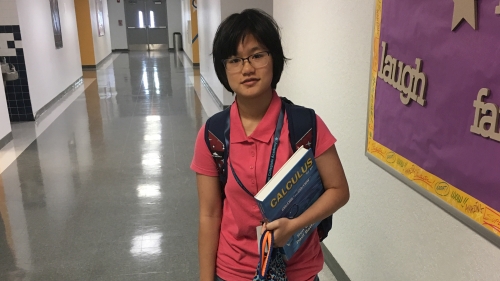 Isabella Yeung completed the EMF Math program during grades 6-8 through her public school district. She wrote the following guest blog post to share her memories of the program and advice for current and future EMF students.
EMF truly is an amazing program. (No, I'm not saying this just because; I mean it with all my heart.) Looking back at the last three years, I am grateful for the opportunity to have participated in EMF. Unquestionably, I have grown from when I was a 6th grader just starting EMF. This rigorous program has expanded my knowledge about the world of mathematics, stimulated my brain cells, boosted my confidence level, and let me grow as a student.
In fact, because of EMF and the support of my teachers and EMF professors, I scored 100% on the University of Florida Dual Enrollment math placement exam on my first try. Thanks to my score, I will be taking UF's Calculus 1 and Analytical Geometry course as a 9th grader.
EMF has played a crucial role in my academic life and in my social life as well; I have created numerous everlasting memories with my best friend who was also in EMF at the same school. (As EMF students, we sat in classrooms with non-EMF students doing the usual accelerated math.) My friend and I gave each other encouragement when EMF exercises were difficult, and we amused each other with our imaginations during the regular classroom lessons.
There is definitely a noticeable difference between EMF students and those who don't take EMF. My math teachers certainly noticed it. Whenever teachers would give my best friend and me a math test along with the rest of their class, we would score the highest in the class even though we didn't pay much attention to the regular lessons and barely studied for these tests.
In 7th grade when my friend and I were in the Algebra 2 Honors classroom, we would finish our EMF work and then quietly make up crazy stories and comics to keep from getting bored by the regular lesson. We both got the top scores of our class on the end-of-course exam because of EMF. He got a near-perfect score, while I got a perfect score. The experience in 8th grade was similar. When the teacher would warn us about a Geometry quiz happening the next day, my friend and I would usually just skim through the regular textbook chapter for 10 minutes that night and obtain the highest marks in the class, either a 100% or just one question off.
Thus, if you stay on schedule with EMF, the content definitely prepares you for school math finals or state math exams. But mostly, it's the way of critical thinking and logic skills that EMF instilled in me that has ensured my success on the tests and exams.
Let me be frank; this course is not for the faint of heart. Sure, you might find it challenging, frustrating, and downright annoying at times, but this is all part of the growing and learning process. This is a program that forces you to look at concepts from multiple perspectives and drives you to think outside the box. It seriously takes your processing and logic skills to the next level! Because of this, my analytical skills have definitely been refined to a sharp point.
The three most important traits you need to possess in order to succeed in EMF are resolve, perseverance, and dedication. If you have these three things, you will undoubtedly make it through the program and earn the title of "EMF Graduate." No matter how puzzling and infuriating a problem might seem, you must not give up until you have solved it. The satisfaction you get when you have accurately unraveled a seemingly impossible exercise is unparalleled. EMF requires that you work diligently and prepares you mentally for most, if not all, obstacles you will face in high school and beyond. If you do end up procrastinating on EMF, you will have to work very hard to catch up. (I know this from experience, having spent some of my school holidays to get back on track.)
As a word of advice to future and current EMF students: Know that there are no shortcuts in EMF. Work hard. In the end, the rewards you reap will surely be worth it. I have not and absolutely will not ever regret partaking in EMF. It has paved a plethora of new roads, ones that I will readily embark upon. I encourage you all to march on and face EMF head-on. Best of luck to all!
More Commentary by EMF Graduates
EMF Math vs. The Traditional Approach to Learning Mathematics by Cole Travers
EMF Insights by Olivia
EMF Math
is an online curriculum designed for talented middle school students.
EMF
covers Pre-Algebra, Algebra I, Algebra II, Geometry and Precalculus, plus advanced topics in modern mathematics. Would you like your public or private school to offer EMF? Share
EMF school licensing
information with your school's math curriculum specialist. For EMF news, like EMF Math at
www.facebook.com/emfmath
.

Comments Off

on EMF Reflections by Alumna Isabella Yeung
---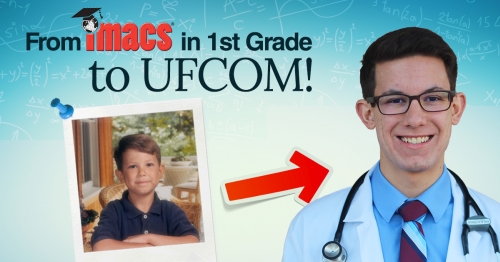 Nik attended IMACS from 1st through 12th grade and completed Math Enrichment, Computer Enrichment, Hi-Tech Summer Camp, and university-level courses in Computer Science and Logic for Mathematics. He earned straight A's in high school, scored 790 on the math section of the SAT, and was named a National AP Scholar after scoring 5's on 13 AP exams. He also happens to be a virtuoso pianist.
Nik chose the University of Florida's Honors Program where he was selected as a Stamps Scholar in recognition of his exceptional success in leadership, service, and academics. As an undergraduate in UF's Biomedical Engineering program, he completed research in both biomedical engineering and gastroenterology while maintaining a perfect 4.0 GPA.
Nik was accepted into the UF College of Medicine's highly selective Medical Honors Program. In only his first year of medical school, he served as the Operations Coordinator for Gainesville's Equal Access Clinic, the largest free clinic in the country run entirely by medical students. Nik will earn both his B.S. and M.D. degrees in seven years after which he plans to complete his residency in internal medicine and then specialize in cardiology.
"Logical reasoning and critical thinking are applicable both within and outside of mathematics. As a medical student, I use these skills every day to efficiently diagnose and effectively treat patients. I credit my many years at IMACS for growing these skills to their fullest potential."
Congratulations, Nik!

---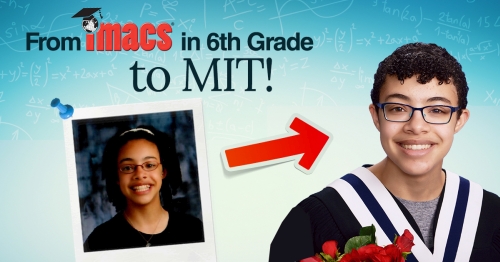 Shuli started taking IMACS courses in 6th grade after winning a scholarship to University Computer Science I through a coding camp for girls. She went on to complete University Computer Science II, AP Computer Science: Java Programming, and Logic for Mathematics. Shuli graduated high school with a near-perfect average of 98 and was named a National Merit Finalist. She scored a 5 on the AP Computer Science A exam and 1560 on the SAT, including 800 on the math section.
Shuli is a true Renaissance woman who competes in a wide variety of academic competitions. She and her teammates dominate the Canadian high school quizbowl circuit, most recently winning the prestigious Reach for the Top National Championship. At the annual Ontario Student Classics Conference, Shuli was named the Top Academic Pentathlete in each of her four years of high school and Top Academic Student in her senior year.
Shuli was accepted to MIT, Harvard, and Stanford. She chose MIT where she plans to major in Mechanical Engineering or Computer Science and minor in Classics.
"IMACS gave me such an early understanding of computer programming and logic that today, complex programming concepts are simply part of the way I think. This now-innate ability helps me succeed in all of my STEM classes and is something I would not have been able to learn anywhere else."
Congratulations, Shuli!

---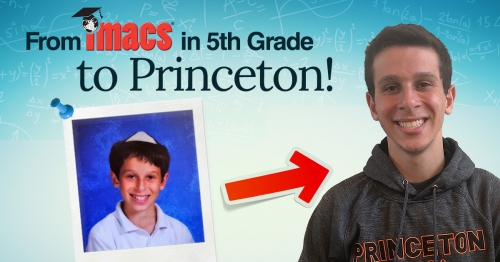 Ty started taking IMACS Math Enrichment classes in 5th grade and went on to complete IMACS' university-level courses in Computer Science and Logic for Mathematics. He is a National AP Scholar who earned 5's on the Calculus AB and BC, Computer Science A and Physics 1 exams. Ty scored 1580 on the SAT, including 800 on math section, as well as 800 on the SAT II subject tests in Math and Physics.
As a student-athlete, Ty was a leader in the classroom and on the field. He and his teammates won the Technion's 2017 Rube Goldberg Machine Challenge, an international competition, for which they were awarded one-year full scholarships. Ty's pioneering performance in an independent course on Multivariable Calculus led his high school to establish a program allowing highly advanced students to study this challenging subject. A varsity soccer player for four years, Ty won MVP honors in 11th and 12th grade and was named a captain of the team in his senior year.
Ty was accepted early decision to Princeton University where he will major in Operations Research and Financial Engineering after taking a gap year to study abroad.
"IMACS taught me to simultaneously think critically and creatively, imbuing me with skills that assisted me throughout high school and played a fundamental role in my decision to pursue data analysis at Princeton University."
Congratulations, Ty!

---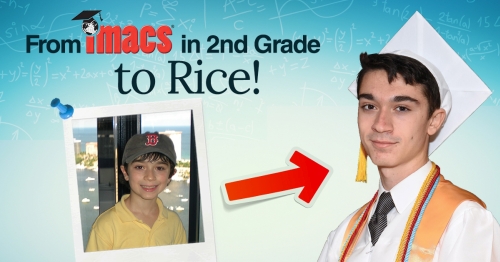 Ricky first attended IMACS in 2nd grade. Over the next 10 years he completed all levels of Math Enrichment and Computer Enrichment, Electronics, and university-level classes in Computer Science and Logic for Mathematics. Having scored 1580 on the SAT, 35 on the ACT, 800 on the SAT II subject tests in Math and Chemistry, and 5's on AP exams in Calculus AB, Calculus BC and Chemistry, Ricky was named a National Merit Finalist and National AP Scholar.
During high school, Ricky channeled his talents and sharp focus through both academic and athletic endeavors. He qualified for the prestigious American Invitational Mathematics Examination, and he and his teammates competed in the Barry University Olympiad tournaments, earning 1st place team wins in Math and Chemistry. Ricky also works on developing ways to use computer programming to enhance research, as well as striving to improve his personal best times in track and cross-country.
Ricky was accepted at Rice University, University of Florida, University of Miami with a Singer Scholarship, and University of Southern California with a Presidential Scholarship. He chose Rice where he will major in Computational and Applied Mathematics followed by a Ph.D. and career in research.
"Taking IMACS classes from a young age gave me a clear advantage in math and computer science, but it also helped me excel in all other fields. I am able to approach complex problems with confidence because of what I learned at IMACS."
Congratulations, Ricky!

---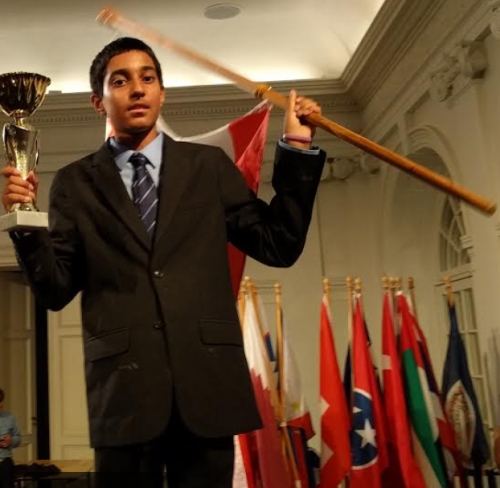 The International History Olympiad (IHO) is a biennial, week-long celebration of history attended by some of the best young history students from around the world, featuring numerous individual and team based competitions.
At the recently concluded 3rd International History Olympiad (IHO) held in Berlin, Germany from July 14-22, 2018, EMF and eIMACS student, Shiva Oswal, won 5 Golds, 4 Silvers, and 2 Bronze medals, including the title of Overall Middle School Olympiad Champion.
The 2018 International History Olympiad was attended by over 200 History students with more than 30 global affiliations. Oswal was part of Team California that was the 2018 Medal Table Champion securing an impressive overall count of 40 medals. Oswal contributed over 25% to Team California's overall medal tally. Team India placed 2nd and Team Canada came in 3rd with 23 medals each.
The 2018 IHO closing ceremony was held at the Charlottenburg Palace in Berlin, Germany. "It was great to see Shiva proudly hold the California flag on more than ten occasions," said his dad, Vikas.

---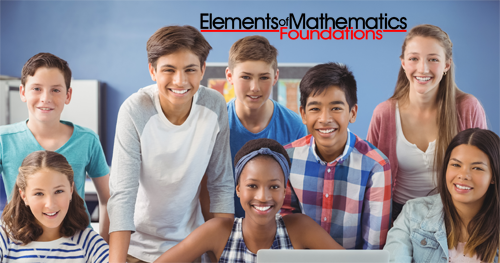 The Institute for Mathematics and Computer Science (IMACS) is thrilled to announce that the Elements of Mathematics: Foundations (EMF) online program for talented middle school students is now complete with the release of the 18th and final EMF course, Precalculus Coda.
Precalculus Coda brings together topics from earlier EMF courses and expands on them with an extensive study of vectors in the real number plane and space, linear transformations (including orthogonal mappings), and matrices and their application in solving systems of equations.
Upon successful completion of the EMF program, students will have covered all national and state math standards for pre-algebra through precalculus but from an entirely modern mathematical approach. In addition, they will have enjoyed thorough introductions to college-level topics such as Abstract Algebra, Logic, Set Theory, Number Theory and Topology, and be well-prepared to excel in a college-level Calculus course.
Why Modern Mathematics
Mathematically talented students typically master school math with little effort. As a result, they tend to become bored with and disengaged from math if limited to traditional curriclum. They may also fail to develop the mental resiliency and study skills that come with having to work hard at math problems designed for their ability level.
The EMF curriculum is designed specifically to engage young, gifted thinkers in ways typically reserved for university math majors. It is useful to distinguish the two ways in which EMF is college-level: (1) the sophisticated use of logic and reasoning via proofs, and (2) the introduction of modern areas of mathematics such as Topology.
EMF incorporates all the concepts from a traditional curriculum but uses a logic and proof-based approach not usually entrusted to students until college. Talented middle school students who are intellectually mature and motivated can benefit from this more sophisticated approach; it fosters the development of creative thinking skills that are not easily replaced by computer processing power as algebraic manipulation skills already have. In other words, EMF prepares students with skills for the future, not skills of the past.
EMF's incorporation of exciting topics in modern mathematics—topics ignored by traditional school math—makes it far more interesting and intellectually engaging. These topics represent areas of active research as opposed to traditional school math subjects that were understood completely by the late 17th century. The idea of cutting off a child's education in literature, history or science at the 17th century is ludicrous. The same applies to mathematics.
Access Matters
For children in many parts of the US and around the world, EMF now fulfills the promise of opening up access to a comprehensive, unified, proof-based approach to modern mathematics. IMACS certainly believes in the value of talented and dedicated teachers, but we also believe that lack of access to such teachers has unfairly limited for too many bright students the right to be challenged at their ability level on the way to achieving their full potential in mathematics. We aim to change that with EMF.
Course 1 < $20
In celebration of EMF's completion, tuition for the first course has been dropped to $19.95 (regularly $59.95) for a limited time. Through August 31, 2018, new families save 67% on the first EMF course or 25% on a bundle of all 18 courses. Visit EMFmath.com to learn more and enroll.
EMF in Schools
Did you know that numerous districts, schools and after-school programs license EMF? In fact, the first cohort of EMF students in Broward County Public Schools, Florida completed the program last year. As a result, many of them will be enrolling in Calculus as 9th graders this fall. If you would like to see EMF offered in your school, share the EMFmath.com/schools website with the relevant decision-makers in your district.

Comments Off

on EMF Math For Talented Middle School Students is Complete!
Older Posts »