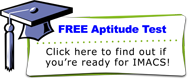 Go to the Head of the Class
For bright students who are looking to go beyond what is available through their regular school, IMACS offers Advanced Placement (AP) and university-level courses in mathematics and computer science. These classes are unlike any you've experienced before, and can catapult you to a level well beyond that of your peers.
Read what university professors and other students like yourself have to say about the opportunities at IMACS. Our reputation for producing top-caliber students can give you just the edge your looking for.
Click a link from the menu on the left for more information on specific courses.
For additional information on serving the needs of gifted and talented children, visit our Resources page.