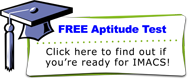 The Ultimate Online Academic Opportunity
As a parent, you want to give your child every advantage in life. IMACS offers exciting and challenging courses that will put your child ahead of the pack. Our unique classes in mathematics and computer science are praised by teachers and college professors for their technique and content, and by former students for the profound advantage our courses gave them. Click here to read some testimonials.
Whether you are homeschooling your child or just looking to provide enrichment not currently part of their education, you are sure to find a program that will grab your child's attention.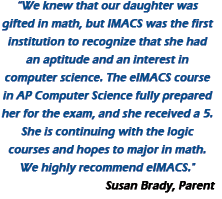 An aptitude test is available to determine which classes would be appropriate for your child.
Click a link from the menu on the left for more information on specific courses.
For additional information on serving the needs of gifted and talented children, visit our Resources page.