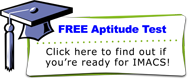 AP® Computer Science
Prerequisites
There are several valid reasons for taking an AP® course. As you know, passing numerous AP® exams is impressive to college admission departments and, upon entering college, your child's AP® scores may enable him or her to receive college credit without actually taking the associated courses in college.
However, if your child has a genuine interest in a particular academic area, then the desire to take the associated AP® course may be based more upon wanting to take the most advanced courses available to your child in that area. In the case of Computer Science, if your child is among those with sincere interest in pursuing computer science more deeply, then you should know that IMACS provides an option that is more advanced that the AP® course. IMACS offers a Modern Computer Science track, which begins with a deeper course than the AP® course. Students of that track are able to take the AP® exam, but they also have a far superior foundation in computer science.
That option is only reasonable for those students with both the interest and aptitude required to study computer science at levels beyond the AP® test. In many cases, the AP® Computer Science course is a better option than the more rigorous track. Obviously, the AP® level is advanced in itself and so, as a prerequisite, a student must have a B+ or better in an introductory computer science course (or must receive a waiver from IMACS).
Tuition
Registration is for a period of 40 weeks. Course tuition is $985. Students who are enrolled directly through eIMACS receive free access to the Interactive Edition of Be Prepared for the AP® Computer Science Exam. Register now »
Questions
If you have questions concerning the registration procedure, please contact IMACS toll-free at 1.866.634.6227 or by email at parentrelations@eimacs.com.