---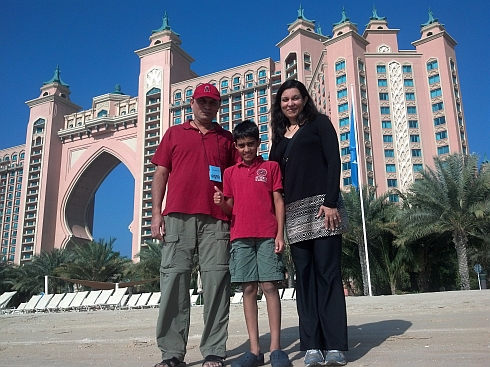 When fewer than 1% of 2014 college-bound high school seniors attain a perfect 800 on the math section of the SAT, you know that you've met someone special when he's achieved that amazing feat before even cracking the teen years. That someone is Shiva Oswal, a precocious 11-year-old from Northern California who recently earned that lofty score as part of a program through Johns Hopkins' Center for Talented Youth (CTY) called the Julian C. Stanley Study of Exceptional Talent (SET). In fact, the probability of an 11-year-old earning a perfect score is less than 0.01%!
According to its website, SET "was created to help extremely talented students achieve their full potential, and, through its research and advocacy initiatives, to enhance the educational opportunities available for all academically advanced students." Those who qualify through their SAT scores gain access to individualized educational counseling and opportunities to connect with mentors and intellectual peers.
How did Shiva do it? The multi-talented board game designer and aspiring professional soccer player mostly studied on his own by taking SAT practice tests. He kept acing the math section at home, so he felt confident that he had done equally well on the real thing, and indeed, he had. (By the way, Shiva is happy with his performance on the Critical Reading and Writing sections too!) His parents, Arvinder and Vikas, are extremely proud, but they also realize the magnitude of the journey known as raising Shiva.
The Moment You Know Your Child is Gifted
When Shiva was around two years old, his parents noticed that he was able to master abstract concepts and make many logical connections. He often saw patterns and anomalies that others overlooked. For example, having observed that cars had license plates with letters and numbers, he was quick to notice a car with an all-numeric license plate and proceeded to ask numerous questions to understand why. The same thing happened when later that week he saw a car with just letters on its license plate.
As with many gifted children, Shiva enjoys probing a subject thoroughly and persistently asks questions in an attempt to acquire deeper knowledge. "How fast can a cheetah run?" "What will happen if it fights an elephant?" "Is a cheetah faster than Spiderman?" These are just some of the questions that his mother, Arvinder, remembers from a time when two-year-old Shiva was intensely passionate about the swift, spotted feline.
By age four, Shiva was solving math problems in his head. When his preschool teacher asked the class how many hundreds make a million, Shiva promptly responded with the correct answer, 10,000, even though he had never been exposed to the concept of multiplication. At that point, Arvinder and Vikas, were certain that their son was gifted. "We felt a sense of responsibility and were quite unprepared to deal with the needs of a relentlessly curious and intensely gifted child," recalls his mother.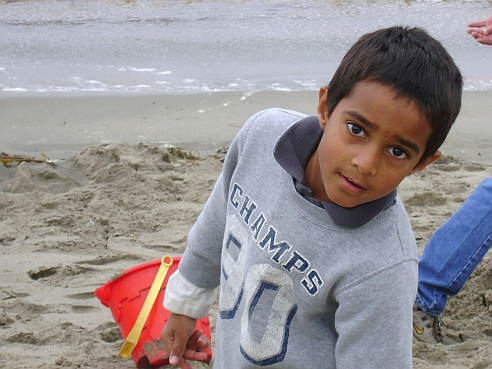 From School to Homeschool
As residents of the Silicon Valley area, the Oswals have access to some of the best schools, public or private, in the United States. During the first few weeks of kindergarten, Shiva was very excited to go to school and usually sat in the front row, eager to learn. Over time, the limited intellectual stimulation led to a decline in his interest in school. By the end of second grade, Shiva frequently announced that lunch and recess were about the only things he looked forward to at school. This is when his parents knew that they needed to look for alternatives.
"While schools did the best they could, they were neither adequately prepared nor widely exposed to what it takes to meet the needs of the gifted child and hence lacked the ecosystem to adequately challenge the gifted mind," explains Arvinder. After a few months of intense reflection and research, they concluded that homeschooling would probably best suit Shiva.
One of the key benefits of homeschooling is the ability to customize an education specific to a child's passions. Of course, homeschooling has hurdles too. As Shiva's mom describes, "The primary challenge is that most of the research (to design an optimal experience) rests on the shoulders of parents because designing a sufficiently challenging and engaging learning experience requires an intimate knowledge of the individual child's passions and strengths."
Resources for Gifted Students
Meeting the educational needs of an extremely bright but young person such as Shiva is no easy task. For his parents, the main difficulty is to continuously find resources of increasing complexity and to pursue these without extinguishing the love of learning. Balance and a sense of what truly matters in life act as guiding principles. "Our hope is that Shiva lives a joyful and fulfilling life while pursuing his passions to the fullest, and we hope he is minimally affected by extraneous factors such as the pursuit of wealth, fame or approbation."
The Oswals have found that the most relevant resources for Shiva have been either online or in classes with small groups of passionate, gifted kids with shared interests.
Online Resources for Gifted Students
"Self-paced, online programs such as Elements of Mathematics: Foundations from IMACS are uniquely suited to adequately challenge the mathematically gifted," shares Arvinder. "Our son loves EMF as it allows him to accelerate at his own pace and level up accordingly."
Other online programs that have worked for Shiva include Guinevere's Gifted Group also known as Online G3. G3 classes are grouped by skill level rather than chronological age to allow asynchronous learners to accelerate as needed. Shiva also loves the Druidawn creative writing program, which taps into "the multidimensional and kaleidoscopic world that resides within the gifted mind."
Live Resources and Events
In addition to online courses, Shiva has benefited from small, live (or live streamed) classes. He loves attending classes taught by Dr. Lucian Sega who encourages gifted students to engage in sustained, rigorous mathematical pursuits. As Vikas and Arvinder explain, "Dr. Sega's ability to make a broad range of advanced, often abstract mathematical concepts crystal clear is stunning. We find ourselves wishing we could travel back in time to restart our own secondary math education with him!"
For introducing a wide range of math concepts in an engaging way, the Oswals are grateful to Yul Inn of the Fun Math Club. Another extraordinary educator and entertainer who has taught the Oswals much is Dr. Arthur Benjamin. "Our family has enjoyed his Mathemagics shows numerous times. Each time we've watched him in action, we gained a new insight, a heightened love for learning or both!"
Other Important Resources
Additional resources can be found through support organizations such as Gifted Homeschoolers Forum, the Davidson Institute for Talent Development, Hoagies' Gifted Education Page, the TAGMAX listserv and the National Association for Gifted Children.
The Journey
The responsibility of nurturing a young, gifted child takes heartfelt dedication and constant work to continually build an ever-evolving system of resources and support. It is, without a doubt, a labor of love as only a parent can know it, both the wonderful strides and the worrisome stress. But it is all part of a unique path that each family with a child like Shiva must forge together.
As Shiva's mom put it beautifully, "An important part of what we do has to do with 'the journey'. The journey has not been delegated. The fondest part is that we are traveling on this journey together. We are constantly amazed at how far a child can go when allowed to freely pursue a passion-centric learning approach. It's been a joy to see Shiva surprise us every day with out-of-the-box solutions. We are very grateful for all that we are learning together as a family because we often satisfy curiosities rather than march to fulfill an external mandate or to earn a grade."
Editor's Note: Shiva's parents granted IMACS permission to disclose his status as a Davidson Young Scholar and as a participant in the CTY SET program.