---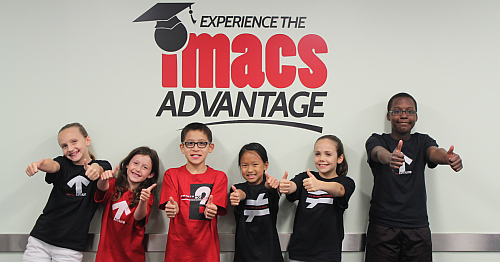 "[M]any of the best mathematicians in the world have never in their lives had any interest in competition math."
—
Keith Devlin
, Professor of Mathematics, Stanford University
Several of our Math Enrichment parents have asked why IMACS wasn't mentioned in The Atlantic's recent article entitled "The Math Revolution". Well, we're the first to admit that we're not sexy! To journalists, that is. Or rather what we do isn't sexy, especially when compared to the panache of producing math competition winners. But we believe in what we do, which is more than just math. IMACS prepares children to be better thinkers for life. And after twenty-three years of seeing our approach succeed, we wouldn't change for all the media coverage in the world.
For readers unfamiliar with IMACS, we specialize in mathematics and computer science for bright, talented and gifted K-12 students. The core of our program is our Mathematics Enrichment curriculum for elementary school students, which is taught at 29 locations throughout the US. IMACS Math Enrichment is unique in that it is intentionally designed to be completely different from school math. One might say it's "mathematician" math because it teaches even our youngest students about beautiful and powerful mathematical structures studied by professional mathematicians and typically not introduced until college.
Why do we take this approach instead of starting with what kids have already seen and expanding on it? (It sure would be a lot easier on us to market curriculum that parents recognize and that journalists think they can write about!) This goes back to the overarching purpose of everything we do — making better thinkers for life. We're not just about turning good math students into even better ones, although we do that. We're not just about providing gifted students with an outlet for their creative mathematical thinking, although we do that a lot. We're not just about teaching problem-solving skills, although we certainly do that. IMACS is about teaching children how to think in creative, logical and flexible ways that will benefit them throughout their lives, whether within or outside the mathematical arena. We equip them so that, long after they have left our classrooms and entered into the "real world", they will be able to react intelligently and constructively to problems and situations that no one alive today has even imagined.
How do you learn to face those kinds of novel situations? Not by working on problems that look familiar. As IMACS alumnus Zachary Kaufman put it, "Graduate school at Stanford was so much easier with the logical thinking skills I learned at IMACS. While classmates tried to memorize each type of problem, I was able to strongly grasp core concepts and use them to solve any problem, even if it was different from those I had seen." Zachary is a better thinker for life. Or alumna Rachel Cuozzo: "An MIT degree says to the world that you are capable of complex problem solving and abstract thinking. IMACS gave me a jumpstart on my MIT education, as it taught me to exercise the same parts of my mind that I use now on a daily basis." Rachel is a better thinker for life. This is what IMACS is about. Unfortunately, it doesn't always make good copy in an article about math whizzes.
Furthermore, IMACS has never been only for kids who already excel at math or families seeking a challenging math education for their gifted children. Of course, the majority of our students are very mathematically talented, and they happily attend our Math Enrichment classes or take our online math courses. But IMACS also nurtures bright students with untapped abilities whose prior negative experiences turned them away from math. Usually, they have been misled into thinking that being good at math means calculating quickly, scoring high on standardized math tests, or enjoying math competitions. For many talented students, none of those apply. IMACS is able to take those kids — who often have natural talent for math expressed in other ways, such as a love for games, puzzles and patterns — and show them (1) what it means to be genuinely good at math and (2) how incredibly good at math they truly are. IMACS makes them, too, better thinkers for life.
So if you are a current IMACS parent wondering if you're missing out on something, or if you are a prospective parent considering IMACS, we encourage you to confirm that the math enrichment providers you are considering actually live up to their claims. Some will tell you that they go beyond what schools do. Some will tell you that they don't do "drill and kill". Verify for yourself. Ask to observe a class and to see samples of the curriculum. Does it look familiar? Is it largely similar to what schools already teach? That will tell you a lot about whether your child's mind is going to be expanded as much and in ways that you're hoping for and quite possibly paying for.