---
PLANTATION, Fla., Mar. 6, 2019 — Representatives from the University of Florida (UF) and Florida Atlantic University (FAU) met with more than 150 middle school students and parents in Broward County Public Schools (BCPS) last week to describe the exciting opportunities they are offering to graduates of Broward's Elements of Mathematics: Foundations (EMF Math) program.
EMF Math is an online curriculum that teaches pre-algebra through precalculus plus advanced topics in modern mathematics to students in grades 6-8. BCPS, the sixth largest public school district in the US, is in its fourth year of offering the program to bright students across a diverse mix of 31 middle schools. Schools and districts interested in licensing EMF Math should contact the Institute for Mathematics and Computer Science (IMACS) at https://www.EMFmath.com/schools.
Many of the Broward's EMF Math graduates are excelling as ninth graders in either Calculus I/II at UF through its dual enrollment program or in Advanced Placement Calculus at their local public high schools.
Brandon Case, UF's Coordinator for Curriculum and Special Programs, said that EMF Math gives BCPS students early access to UF's dual enrollment program. "They are programs primarily for [high school] juniors and seniors," noted Case, "But we've worked with the district, and EMF students are allowed to participate for one math course per term as of their freshman year."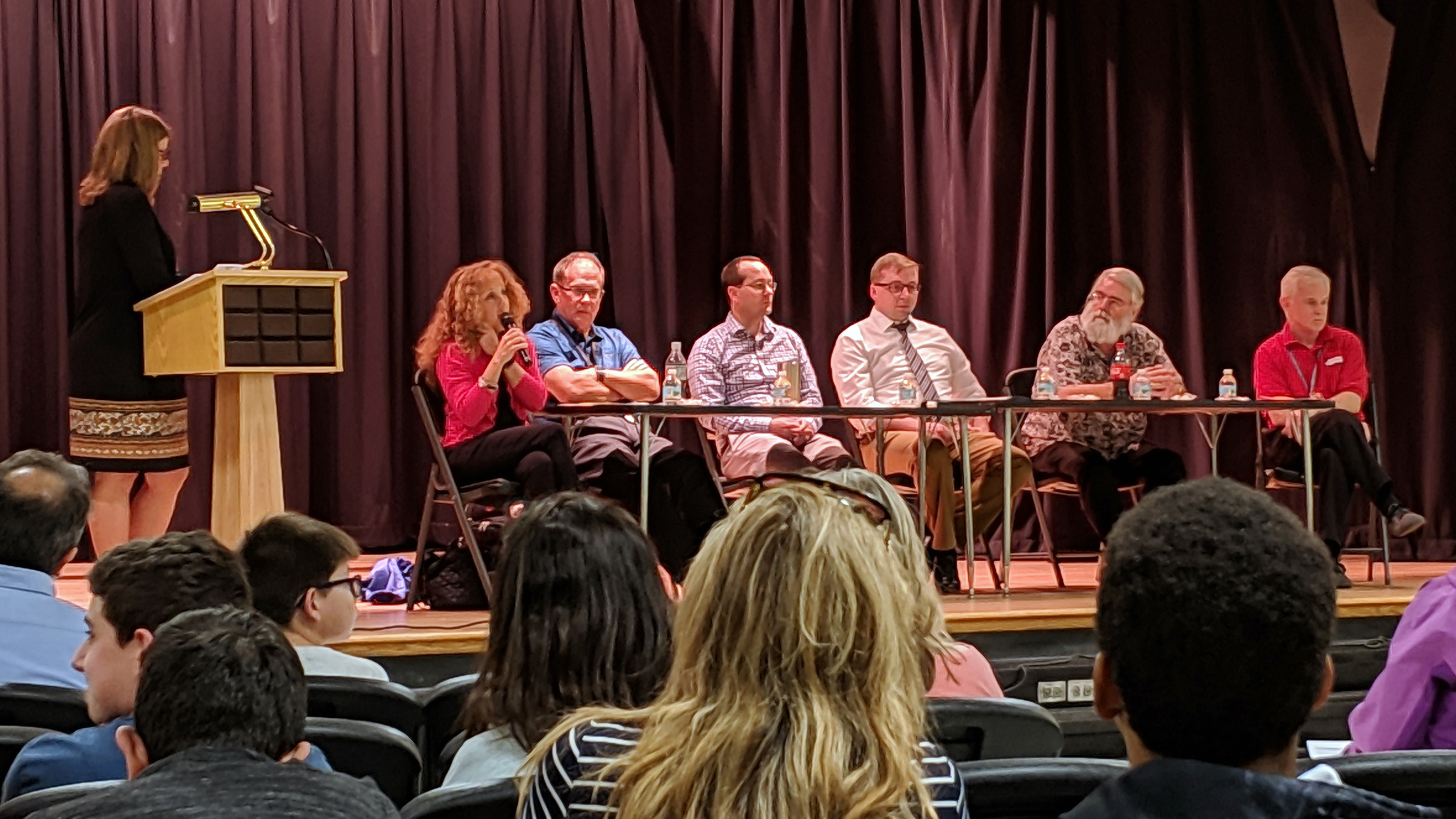 According to Case, the first cohort of EMF Math graduates taking UF Calculus I/II are, broadly speaking, doing quite well. Ninth grader and EMF Math graduate Zachary Weissman completed UF Calculus I with an outstanding grade of 106%. "I absolutely loved Calculus I, and I am enjoying Calculus II," said Weissman. "I believe this program will be extremely beneficial for the EMF eighth graders, and I strongly recommend it."
Andreas VanDenend, Assistant Director for UF's Online Dual Enrollment Program, described the support system that UF provides to EMF Math graduates. "At the University of Florida, we do a whole lot for the students to make sure they are not drifting around in UF systems," he assured parents. "We make sure students have their right login, their UF identification number, all that they'll need to get started on the first day of class."
Professor Stephen Locke, Associate Chairman of the Department of Mathematical Sciences at FAU, noted that EMF graduates can take dual enrollment classes during the summer at FAU. Some parents thought this might be an attractive option for students who want to take classes that UF doesn't offer online or who would like to have a local professor.
Parents in attendance were mainly seeking advice on navigating the uncertain road of high school and college coursework. Many of them found the presentations to be very informative and appreciated that these universities were already taking an interest in their middle school children.
IMACS is currently offering schools and districts the opportunity to provide the first EMF Math course to an unlimited number of students at no cost. Teachers and administrators may request access by registering at https://www.EMFmath.com/schools.
About IMACS
The Institute for Mathematics and Computer Science is an independent teaching and educational research institute with centers in South Florida, North Carolina, Missouri and Connecticut. Over 4,500 students from across the US and around the world attend local IMACS classes or study its online courses. For more information, visit https://www.imacs.org/.