---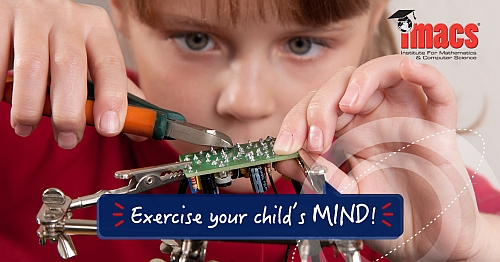 The Institute for Mathematics and Computer Science (IMACS) believes in making sure kids exercise their minds this summer, in addition to their bodies, with fun yet educational summer camp experiences. Spending summers having fun and being outside is definitely important, but a small dose of educational summer camp is essential for all students too. Here are three reasons why:
1. Retain Knowledge: Summer vacation can often lead to forgetfulness and overall loss of learning. According to a study by the RAND Corporation, students lose, on average, one month of learning during the summer, all students lose some learning in math, and summer learning loss is cumulative over time. When kids aren't working certain parts of their brains during summer, they end up spending the first few weeks of the academic year refreshing what was lost. Educational summer camp activities keep those areas of the brain active so that children are ready to engage in new learning when school begins again.
2. Develop New Interests: Educational summer camps are a great way to explore new academic areas that kids don't have time for during the year because of school commitments and extracurricular activities. IMACS Hi-Tech Summer Camp, for example, often sparks the interest of kids who never considered math, electronics or virtual robotics as something they would enjoy. This is especially true for girls who often don't get enough exposure to these kinds of activities. At IMACS, we have had a number of students realize they want to study engineering after being immersed in hands-on projects and the logical and creative ways engineers think at our Hi-Tech Summer Camp.
3. Make New Friends: If your child enjoys fun, academic challenges in mathematics, computer programming and gaming already, they will not only have the opportunity to advance their skills, they will meet other kids their age with similar interests. Educational summer camp attendees are smart, fun, and enjoy a little friendly competition. It's a truly unique opportunity for your child to connect with other kids who appreciate their unique way of thinking. It's also a time for kids to be inspired by instructors who are genuinely passionate about their field.
Educational summer camp should be a part of every child's summer activities. It helps stop summer "brain drain", exposes kids to new ideas and pursuits, and leads to great friendships and memories. When choosing an educational summer camp, be sure to ask if the camp is staffed by high school and college kids or by highly-qualified and experienced instructors. After all, these kinds of camps should involve real thinking in addition to real fun!
IMACS Hi-Tech Summer Camp
, with locations in South Florida and North Carolina, does for the mind what sports does for the body. Reserve your spot at one of our Open Houses and come for a chance to win a FREE week of camp! Not near an IMACS camp? Summer is the perfect time to try one of our outstanding
online courses
in mathematics and computer science.