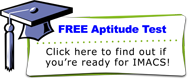 University Computer Science
Prerequisites
Before registering for University Computer Science I, the first course of the Modern Computer Science Track, all students must pass the online aptitude test or receive a waiver from IMACS. This is a free, online test, and there is no obligation. You can register for the aptitude test by filling out the form below. After the aptitude test is completed, IMACS will contact you with the results.
Tuition
Registration for each course is for a period of 40 weeks. Tuition is $985 for each course in this track.
Aptitude Test
To register for the aptitude test, please fill out the form below.
Click here to learn more about the aptitude test.
Questions
If you have questions concerning the registration procedure, please contact IMACS toll-free at 1.866.634.6227 or by email at parentrelations@eimacs.com.