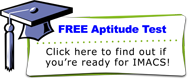 University Computer Science
Course Description
University Computer Science I is the first course in the Modern Computer Science track, a sequence of fully interactive, self-contained, online programming courses for high school students. University Computer Science I teaches the programming language Scheme, the language of choice at many of the finest computer science universities around the world because it enables students to focus on advanced concepts that can be easily applied to any programming language. This is a true online course and includes online Scheme interpreter, interactive exercises, and instant feedback with automatic grading of all work.
Procedures
Each student is assigned a principal IMACS instructor, and is given unlimited access to the curriculum for the registration period.
The principal instructor is available by phone or by email during regular business hours. Additionally, the principal instructor or other IMACS instructors are available via the online Help Desk, monitored seven days a week including evenings.
Students submit assignments and tests online. Scores for assignments and tests are accumulated into the student's online gradebook so that parents, students and instructors can monitor student progress.