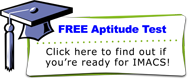 AP® Computer Science
AP Audit Information
The IMACS online course AP® Computer Science: Java Programming has been audited by the College Board and authorized as an online course meeting or exceeding the expectations colleges and universities have for the AP® Computer Science A exam.
This edition, which includes eight labs that exceed the College Board's new requirement, is available for teacher review — call or email IMACS at the numbers given below to obtain login information.
Since IMACS is an authorized online provider, when you license this course you are automatically authorized by the College Board to use the "AP" designation in describing or listing the course, and are further authorized to use the "AP" designation on your students' transcripts in association with this course. You do not need to submit an audit. Instead, simply indicate to the College Board that your students will take the IMACS online course by following this procedure:
Log on to the AP Course Audit Web site using the school principal's, AP coordinator's or guidance counselor's account information. Teacher logins do not have sufficient privileges to complete this process.
Click on "Add online or distance learning course" link in the upper left corner of the page.
After clicking on the link, a new page appears. There is a drop-down menu in the center of the page that says "Select online/distance provider"
After clicking on the menu, scroll to select Institute for Math and Computer Science from the drop-down, and the box below will populate with Computer Science A.
Choose this course by clicking on it.
Attest to the honesty of your selection by clicking the box below in the "school acknowledgment" section.
Press the "Submit" button.
Questions
If you have questions concerning the registration procedure, please contact IMACS toll-free at 1.866.634.6227 or by email at teachersupport@eimacs.com.