---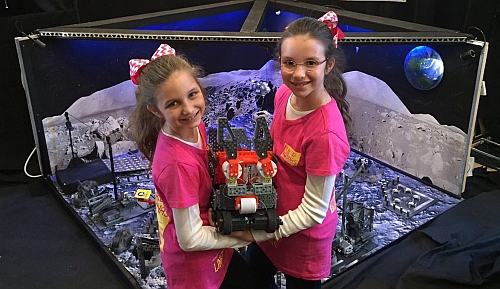 You might recognize twin sisters Hadley and Delaney Robertson from their cooking show for kids, Twice as Good, that airs on PBS stations across the country. We at IMACS also have the pleasure of knowing them as two intelligent and delightful students who have been attending our Math Enrichment classes since they were in kindergarten. "IMACS has provided Hadley and Delaney with such an amazing mathematical foundation," their father, Johnathan, recently shared with us. And we are beyond thrilled to share that these talented girls were just named grand prize winners in the 2015 MOONBOTS Challenge!
The international MOONBOTS competition, also known as the "Google Lunar XPRIZE for Kids," is designed to encourage the next generation of space explorers and innovators. Kids ages 8-17 are invited to design, create and program their own lunar rover, based on a legend or theory that inspires them about the moon. This year 235 teams from 29 countries entered the competition, and the Linked Lunas team comprised of Hadley and Delaney won! As grand prize winners, they will travel to Japan to meet the Google Lunar XPRIZE teams that are competing to land a privately funded robot on the moon.
Hadley and Delaney have long been fascinated by the moon. When they were younger, their grandfather would regale them with a story of how the Earth once had two moons, which the sisters imagined were twins like themselves. They later discovered that planetary scientist Professor Erik Ausphaug theorized that the Earth, indeed, used to have two moons that eventually collided and merged to form the moon that we see today. This mythical tale and scientific theory inspired in Hadley and Delaney a deep interest in the moon and thoughts on how the same moon appears differently depending on one's perspective. They share their inspiration in this clever entry video:
With a captivating presentation like that, it's no wonder that Linked Lunas was one of only 30 teams to move on to the technically challenging second phase of the competition. During the second round, Hadley and Delaney put their engineering, programming, and creative problem-solving skills to work in designing and building a lunar landscape, building and programming a sophisticated robot, and developing a game for their robot to rove the lunar landscape. Not bad for a pair of 9-year-olds! You can't help but be impressed by their masterful moon mission in this next video:
The MOONBOTS Challenge, however, isn't only about individual achievement. An important component of the competition is how teams use their innovative projects to inspire members of their community through public outreach. Team Linked Lunas was able to secure donations of robotics kits and $5,000 for after-school robotics instruction at a local, underserved middle school. In this last video, Hadley and Delaney give a demonstration of their robot to students from that school and announce the exciting news of the donations to their school:
Everyone at IMACS is so proud of these remarkable girls. There is no doubt that Hadley and Delaney have a talent for math and science and love inspiring others to learn. The cooking show Twice as Good has produced 20 fun videos that explain how cooking can teach kids about nutrition as well as science, math, and geography. Share these with your children and maybe they, too, will be encouraged to shoot for the moon!

One response to "Twin Sisters Win 'Google Lunar XPRIZE for Kids'"