---
June 30, 2011 Filed under:
Meet IMACS
— IMACS Staff Writer @ 7:00 am
The A/C is cranked and the sweet tea is flowing. Our IMACS Hi-Tech Summer Camp, where kids solve logic puzzles, build electronic circuits, and learn how to program, is in full swing. Summer has definitely arrived at our headquarters in sunny South Florida. Did you ever notice how people from other parts of the country refer to it as "Southern Florida?" Wonder if they say "South California?" Anyhoo, we asked three members of our IMACS family to share their favorite math- or science-related books and movies for our completely informal, very unofficial recommended summer reading and viewing list. They say you can tell a lot about a person by the media they consume, so here's your chance to get to know Lisa Cunningham, Danielle Ernst and Stephen Flegg.
Lisa Cunningham, Director of Curriculum Training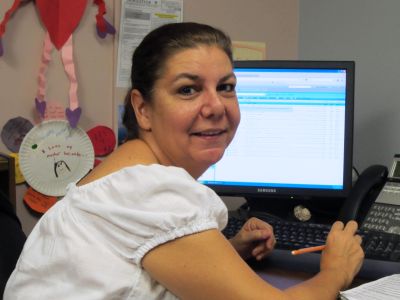 Lisa has an Ed.D. in Curriculum and Instruction from Florida International University and worked many years ago for us as a part-time math enrichment instructor. In our search for someone to head up our ISLAND training, we called Lisa to see if she knew anyone who would be interested. After hearing the job description, she said "What about me?" Lisa jumped at the opportunity, and we are so lucky she did. She also has a daughter who takes math enrichment with us.
Her survey response is below:
"Sure, I'd be happy to participate! I love all things Star Trek because it's fun to think of what the future could be like, and it is all about the science of things – carbon life forms, tricorders …
I also really like Good Will Hunting. What I like about that movie is that it portrays a brilliant mathematician who would have attended a Title 1 school where, unfortunately, there aren't as many enrichment opportunities available to foster intellectual and academic growth. As a teacher, it is rare to come across that natural 'genius' student who has not been exposed to such opportunities.
As far as books, I would recommend The Science Book. It has some great explanations and wonderful pictures. I use it to reinforce concepts with my daughter or to help her understand the ideas she questions."
Danielle Ernst, Senior IMACS Instructor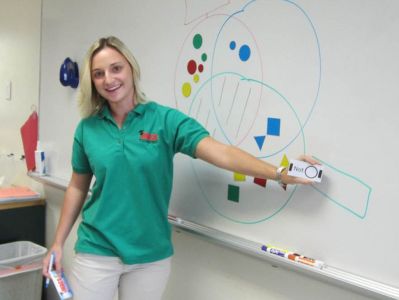 Danielle was an IMACS student from 3rd grade through her high school graduation. During high school she also worked part-time as an IMACS office assistant. Danielle received her BA degree in Mathematics from The Johns Hopkins University. Upon graduation she contacted us about the possibility of working for IMACS and has been with us full time for the past two year. Danielle teaches many of our advanced math enrichment classes as well as our computer programming and virtual robotics classes. She is also involved in developing our new online Virtual Robotics Lab software. There's nothing like hiring former students. 🙂
Her survey response is below:
"I'd love to be part of the blog! My favorite math book is called An Imaginary Tale by Paul J. Nahin. I read it right after I took a complex analysis course while I was studying abroad in Australia. My professor there was so enthusiastic about the subject that I couldn't help but enjoy it as well. I found it extremely interesting to read and learn about about a branch of mathematics that only exists in the 'imaginary' sense.
My favorite math-related movie is probably A Beautiful Mind. It's a very moving film with great acting, and it is based upon a real-life mathematician. It was a very popular movie, and I like that it brought a story about mathematics into the mainstream. Now people who never took any math classes after high school know who John Nash is, and so do I!"
Stephen Flegg, Senior IMACS Instructor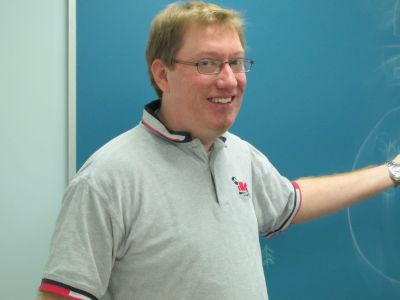 Stephen started teaching for us part-time in 1999 right after he received his BS degree in Physics from Florida Atlantic University and is now on our full-time staff. He teaches our most advanced math enrichment classes and also developed a beginner chess class for our homeschool program. This summer, in addition to teaching the electronics class for our summer camp, Stephen is involved in writing lesson plans for ISLAND. We're very fortunate that many of our instructors such as Stephen love teaching for us and have been with us for a very long time.
His survey response is below:
"I found it tragically difficult to find some work that would be held up above another as my favorite. In the book category I can give you two books, the first being The Black Cloud by Fred Hoyle; yes, the same Fred Hoyle who made fun of the Big Bang with the name 'Big Bang,' and the name then stuck. It is an old novel but very well done and falls into the hard sci-fi genre. Although he takes cheap shots at the Big Bang theory and, by doing so, messes up the theory of evolution, the rest is solid. Those sound like major flaws but not in the context of the story. The next book is called The Age of Wonder by Richard Holmes. This book is a biography of the intellectual history of the 18th and 19th century. I haven't finished it yet, but I'm loving it nonetheless.
As for movies with math and science, there are many but one seems to always come to mind – 2001: A Space Odyssey by Stanley Kubrick. I was very young the first time I saw the movie, but even at a young age I recognized the attempts to make it realistic even if I had trouble following the story. This became even more obvious when compared with Star Wars, which I also loved as a child. No sound in space, centrifugal force, orbits and many other features awed me then and now.
I was and still am a huge fan of the show Connections by James Burke. It been over for more twenty something years but it is still great."
Lisa, Danielle and Stephen – thanks for sharing! You've given our fans a lot of good stuff to wrap their minds around this summer. Do you, dear reader, have a favorite math- or science-related book or movie that you would like to add to the list?
Add IMACS to your list of top picks. Sign up for our free aptitude test. Follow IMACS on Facebook.