---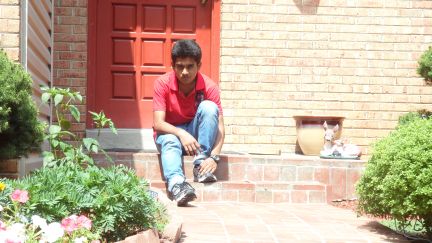 Did you know that eIMACS serves students in over 10 countries around the world? This week, our blog post features current student, Hossain Md. Jihad Turjo. Turjo is a talented 11th grader at Mastermind School in Dhaka, Bangladesh. In addition to excelling in his eIMACS courses, he has also earned top marks from other prestigious online programs for bright students, including Johns Hopkins Center for Talented Youth (CTY) and Stanford's Education Program for Gifted Youth (EPGY). When not immersed in his studies, Turjo enjoys reading novels and has even had three published book reviews for CTY's Imagine magazine:
• "Guns, Germs, and Steel: The Fates of Human Societies" by Jared Diamond
• "H.I.V.E.: Higher Institute of Villainous Education" by Mark Walden (Click on the 'Preview' button to read Turjo's review.)
• "The Boy Who Harnessed The Wind" by William Kamkwamba and Bryan Mealer
How did you first become interested in computer science?
My first programming experience of any sort was at school in 8th grade – we had the basics of Visual Basic as part of our coursework curriculum. There were quite a few incidents which hooked me to programming during the six months or so that I had Information and Communication Technology (ICT) at school as part of my curriculum. An example of such a case would be when we were learning to program a calculator for adding numbers with the digits 0, 1 and 2. The "calculator" would have virtual "buttons" labeled +, 0, 1, 2 and =, and would have a screen for displaying the numbers typed in or the result.
Of course, the very thought was horrid to me – the numbers lacked 70% of the digits, and I could only do addition. At the moment, our teacher was not inclined to be very explorative either. So I decided I could do better, and pretty soon I had a calculator with all the digits, an operation display alongside a numbers display, all the operations instead of simply addition, and functions for taking nth roots, raising numbers to any exponent and reciprocating numbers.
That was the kind of small trivial thing that later snowballed into a massive interest in computer science and programming – and eIMACS was perfect for it.
Residing in Bangladesh, how did you find eIMACS, and what made you decide to take one of our online computer courses?
I found eIMACS while browsing the net for computer science courses that are on offer for young and talented students. So I made an inquiry about what courses might be on offer for me, considering that I was a complete amateur in the field of computer science. The next day, I spoke on the phone with a senior IMACS instructor who suggested that I start off with University Computer Science I, that apparently being a very good beginner's course. So I took the Aptitude Test, managed a good enough score, and started the course that very day. I guess the main deciding factors in what made me choose eIMACS was the promptness and enthusiasm of the instructor's reply, the fact that he offered to be my instructor even though I was a novice, and the course description on the IMACS Web site.
As a student who has taken or is taking several online courses in math and science from different vendors, how did your experience with eIMACS compare?
In addition to UCS1 from eIMACS, I have taken Honors Chemistry, Honors Biology, and AP Calculus BC from CTY and AP Physics C: Mechanics from EPGY. I am now continuing AP Statistics from Northwestern University's Center for Talent Development (CTD).
The courses from eIMACS and CTY were all self-paced allowing me to work on the lessons and the tests at whatever time suited me most, contrasted against a fixed course in which lessons are taken by an instructor, normally during his office hours. That was a thing I really liked about eIMACS and CTY – the self-paced option, seeing that a fixed course would be extremely hard for me to keep up with due to the huge time zone gap. Also the quality of presentations for both the eIMACS and CTY courses was really high.
CTD's AP Statistics course, which has been a satisfactory experience thus far, is next best, and then EPGY's Mechanics course after that.
UCS1 from eIMACS is the clear winner when it comes to the best course among these. It started at a very basic level in a way that made it extremely easy for me, a novice to understand. I loved the user interface and the way computer science code was introduced to the rookie. The course got progressively more challenging and, I might add, more fun. An awesome thing about UCS1 was the way the tests were taken entirely online. I mean, it is kind of tedious to have to write out answers on a give question paper, scan it and then e-mail it, the way I did it with CTY. But given that one was a math course, where steps and working are extremely important, I guess that was the most suitable option for CTY.
As to instructor availability, I think it's reasonable enough to say my IMACS instructor was the one I had the most contact with. He was simply more cheery, more communicative and more encouraging than my instructors from the other programs. I'm not saying the others didn't have those qualities, but my IMACS instructor had it to a great extent.
UCS1 is taught using the programming language Scheme, whereas many introductory courses take students straight into Java, especially since the College Board's Advanced Placement exam is currently in Java. What's your view on the eIMACS approach?
I felt that UCS1 did an awesome job in introducing me to the field of computer science. The approach of using Scheme seems to me to be much better. I have seen Java code for web pages a few times, and it did look quite a degree more complex than Scheme. Hence I would say the IMACS approach in using a simpler language (simple is a relative term) as a beginning language is all the more effective for its simplicity. I found I was able to focus on learning the programming concepts instead of worrying about whether I was getting the syntax right. And if anyone was very interested in Java, they can always take the AP Computer Science course from IMACS. So I would say that the IMACS approach is a very effective method.
Your goal is to major in computer science at a US university. What would you like to do after that? Do you have a career vision in mind?
I would simply love to become a top programmer or "Head Game Designer" at someplace like Microsoft or Sega. There are some pretty awesome games out there and someday I want to be the one bringing to life better themes than those games did, coupled with a much better game-playing experience. Sky Target and The House of The Dead series are classics that are impossible to forget – both Sega productions. Someday I hope I can do better.
IMACS delivers flexible and high-quality online computer science courses anywhere in the world. Register for our free aptitude test. Play along with our weekly IMACS logic puzzles on Facebook.