---
June 7, 2012 Filed under:
Meet IMACS
— IMACS Staff Writer @ 7:00 am
Can it really be that almost a year has passed since our very first 'Staff Picks' blog post? That means another class of IMACS graduates is moving on to new adventures in learning, and we are busily planning for our Hi-Tech Summer Camp. It also means that it's time to meet three more members of our IMACS family—Daniel Payne, Ken Matheis, and Lauren Rosenfarb—and to get their book and movie recommendations for this summer.
Daniel Payne, Assistant Director and Senior IMACS Instructor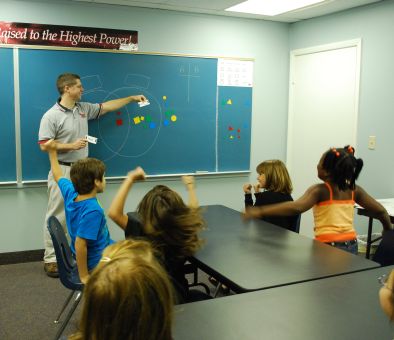 Dan has been teaching for IMACS since 2003. He teaches all levels of math and computer enrichment and our University Computer Science I course. In addition he teaches many of our Placement Classes for new students. Dan is very enthusiastic in everything he does and it shows as his students love his classes and always hope that he'll be teaching them again the following year. Dan received his BA degree in Anthropology from Florida Atlantic University and also has an extensive IT background.
Here are Dan's picks:
"My favorite book is The Hacker Crackdown by Bruce Sterling. It's a true crime story about the the dawn of computer hacking as a romanticized pursuit for teenagers. These were my contemporaries, and as a part-time denizen of the electronic BBS culture, I felt connected to the stories in this book. Sterling dissects the lives of the 'villains' to walk the reader through what lead the kids to commit these crimes and how the FBI was in way over their heads trying to catch them. There is something special about the electronic 'nerd' culture heroes who were only known by a select few until the movie The Matrix formalized this appeal to the masses in 1999.
That leads me to my favorite math/science movie. Yes, The Matrix. Pop culture latched on to the visuals, but for me that is only a bonus. It was the right movie at the right time, bridging the shift in the meaning of 'nerds' from a pejorative for socially awkward brainiacs to exceptional, savvy people who know how to do important things the rest of us do not. The protagonist, Neo, a hacker superhero, could not have existed on screen ten or even five years prior. The few movies that tried it were unable to capture the hacker/gamer culture that had already existed on a small scale for decades. Yet he seems perfectly believable ever since.
One more thing. The film was an excellent vision of Rene Descartes' ageless dilemma that there can be no proof that our world is as our senses inform us. This is another well trodden topic that the Wachowski siblings did better in this film than any other rendition I have seen or read."
Ken Matheis, Senior IMACS Instructor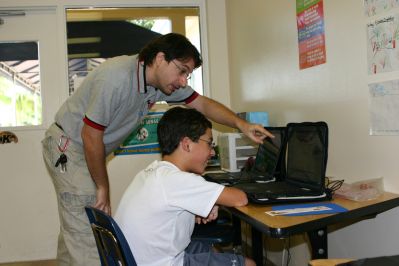 Ken is a senior instructor for our computer science program. Ken was a student in Project MEGSSS, the predecessor program to IMACS, through 11th grade. When MEGSSS lost its public funding for his senior year, he completed his courses at IMACS as one of our first group of students! Ken received bachelor's degrees in Mathematics and in Electrical and Computer Engineering from Rice University. He was a part-time IMACS instructor from 2000 through August 2011. During part of this time, Ken completed his MS and PhD in Mathematics with a specialization in Cryptography. Since September 2011 Ken has been working full-time with us as an instructor and also as a programmer working on several important projects, including our ISLANDscience virtual science lab.
Here are Ken's picks:
"For my favorite TV series, I have to go with Star Trek. No matter which spinoff series you watch, you see Gene Roddenberry's vision of what humanity could accomplish if we got over our minor differences and worked collectively to solve the more serious problems we face, such as widespread hunger, severe poverty, and abject racism. Equally important, the characters also demonstrate the right attitudes one should have when resolving conflicts: cooperation over stubbornness, empathy and diplomacy over aggression, understanding over ignorance. Sure, there are plenty of physical conflicts as well, but entering into them is depicted as a last resort.
My favorite book is The Foundation Trilogy by Isaac Asimov. The Foundation Trilogy focuses on the application of mathematics to human psychology with the goal of predicting human reactions to various events. Such a project is breathtaking in scope, requiring statistical analyses of quadrillions of humans. The outcomes, however, only apply to groups of people; they do not and never can predict the reactions of a single individual. Asimov tells a masterful tale of a 30,000 year old collapsing galactic empire and a protagonist who uses this technique to attempt to rebuild it in a mere thousand years. It inspires me to push the limits of mathematics in my own fields in order to benefit our society."
Lauren Rosenfarb, Marketing Director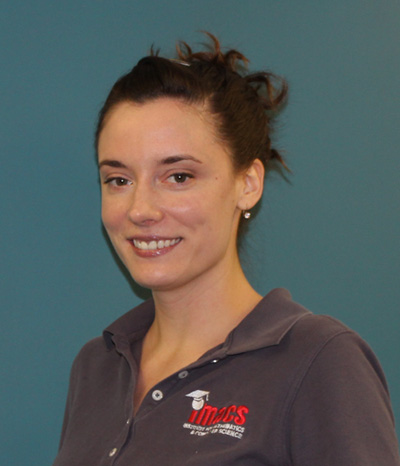 Lauren began her IMACS career in 2005 as an instructor. She is now our Marketing Director and also manages our homeschool programs. Lauren graduated from the University of North Carolina at Chapel Hill with a degree in Public Relations and Journalism and Mass Communication. We love having such multi-talented people on our staff!
Here are Lauren's picks:
"I really enjoyed many of the math and science focused books and movies previously mentioned in our 'Staff Picks' segment. Two additional math and science movies definitely worth watching are Moneyball and Contact.
Moneyball, originally a book by Michael Lewis, is based on the true story of Oakland Athletics baseball general manager Bill Beane (portrayed in the movie by Brad Pitt). After loosing many of his star players, Beane has to reassemble a ball club despite an almost impossibly tight budget. Beane hires Jonah Hill's character, Peter Brand, a young, Ivy League economics grad, with radical ideas about building a winning team. Using statistical analysis, Brand and Beane find a whole team of undervalued players and invest, not in stars, but rather in probable hits and runs – the stuff that wins are made of. The idea of valuing statistical data and probabilities over intuition and experience does not sit well with Beane's scouts and controversy ensues.
Mathematics also plays an important part in the movie Contact, based on the Carl Sagan novel of the same name. In the movie, Jodie Foster's character Ellie uses radio antennas at the Search for Extraterrestrial Intelligence project (SETI) to listen for any radio signals coming from space in hope she will discover a message from intelligent extraterrestrial life forms. After years of detecting nothing but natural random radiation, Ellie finally picks up a transmission that consists of the first 261 consecutive prime numbers. Because there is almost no chance of that sequence of prime number randomly occurring in nature, Ellie theorizes that the radio transmission must have been created by an extraterrestrial intelligent life form."
Dan, Ken, and Lauren – thank you for sharing these books and movies. Our blog readers will surely enjoy these thoughtful suggestions.