---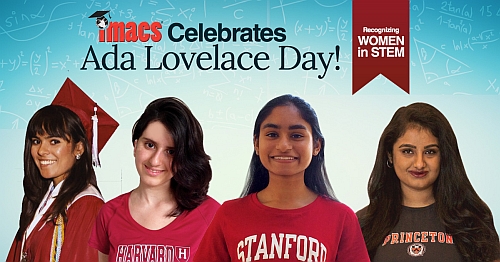 October 13, 2015 is Ada Lovelace Day, a day to honor the achievements of women in science, technology, engineering and math. IMACS asks that you join us in celebrating this day by encouraging a girl to pursue her interests in the STEM subjects.
She may be your daughter, sister, student or friend. She may be enthusiastically expressive about her love for STEM, or she may be the quiet type who will share deep thoughts if you ask. Or she may be especially in need of your encouragement because she's not yet received that message or, worse yet, has been actively discouraged from pursuing her passion for STEM.
What can you do to encourage a girl in STEM today or any day? If you have the knowledge and time to share, become a mentor to her. If you don't have the time to commit to mentoring, help her find appropriate enrichment activities such as local events at the science museum or after-school programming classes that will keep her engaged, especially when social pressure can push her off track. Even something as simple as sharing stories about talented women in STEM who can serve as role models can make a difference.
IMACS is honored to have been a meaningful part of the education of numerous high-achieving girls who have gone on to amazing college and professional careers. They now serve as inspirational role models for our younger students. Who knows? The girl you encourage today may one day be an IMACS alumna studying STEM at a top university!
IMACS
believes in the potential of bright young women to shape a better future for all people. That's why IMACS created
university-level courses
that help talented girls develop the knowledge and skills prized by top universities and leading companies. Like
IMACS
on
Facebook
for the latest information about our
local classes
and
online courses
.