---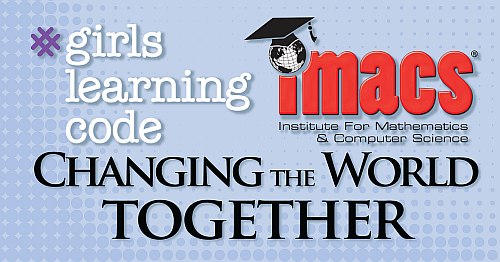 Ladies Learning Code and the Institute for Mathematics and Computer Science (IMACS) are partnering to award over $3,000 in scholarships to participants in the 2016 Girls Learning Code Camps and members of GLC's Teen:Club. The two full and three half scholarships will allow recipients to enroll in IMACS' introductory computer science course, University Computer Science I (UCS1).
240 girls ages nine to twelve are expected to attend Girls Learning Code Camps in Toronto this March and Summer. The camps are designed to help girls see technology in a whole new light — as a medium for self-expression, and as a means for changing the world. IMACS will award one full scholarship and one half scholarship among applicants who attend the camps. All campers are invited to apply.
Shuli Jones attended the very first Girls Learning Code camp as a 6th grader back in 2012 where she won a half scholarship to UCS1. She is now a sophomore in high school and recently scored a '5' on the AP Computer Science A exam as a freshman. Since starting IMACS' computer science courses soon after the camp, Shuli has been one of IMACS' top CS students.
IMACS will award the other full scholarship and two half scholarships to members of GLC's Teen:Club. In Teen:Club, 13 to 17 year old girls focus on solving problems, turning ideas into reality and learning about what a future in technology could look like. All members are invited to apply.
"Now that we have been running youth programs for 4 years, we are really starting to see our participants move on to technical career paths, pursuing Computer Science in University and coming back to participate in our programs as mentors, inspiring the next generation of girls," says Laura Plant of Ladies Learning Code. "We're excited for our girls to have an opportunity to study computer science at a high level with IMACS."
"IMACS believes in the potential of bright girls and young women to shape a better future for all people," adds IMACS president Terry Kaufman. "We are thrilled to be working with Ladies Learning Code again to encourage more girls to pursue computer science in college and in their careers."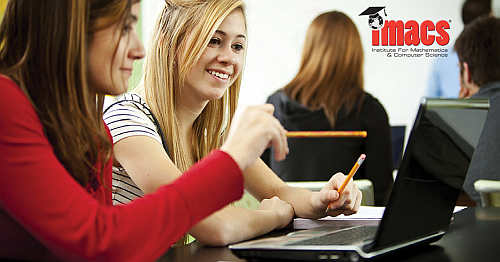 Scholarship Information
The course, UCS1, is a challenging and engaging introductory programming course that gives students the tools they need to excel as a computer science major in college. UCS1 teaches the fundamental principles of computer science at the university level but was developed for talented middle and high school students.
Scholarship applicants must submit a 100-250 word essay to Ladies Learning Code on what they hope to get out of this program. They are also required to pass the online eIMACS Aptitude Test. The application deadline for these scholarships is August 31st 2016.
Applicants may register for the eIMACS Aptitude Test at www.eimacs.com/aptitude. On the online registration form, enter "Girls Learning Code 2016" in the box for "How did you hear about IMACS?"
About Ladies Learning Code
Ladies Learning Code is a Canada-wide not-for-profit organization that runs workshops for women and youth who want to learn beginner-friendly computer programming and other technical skills in a social and collaborative way. Today they have 22 chapters (and counting) across Canada, a thriving girls' program called Girls Learning Code and co-ed kids program called Kids Learning Code. With sponsors and community partners that include TELUS, Microsoft, Facebook, Autodesk, Google and many more, Ladies Learning Code has become synonymous with technology education in Canada.
About IMACS
Founded in 1993 by a team of mathematicians, computer scientists and educators, IMACS offers talented middle and high school students a range of online courses in university-level mathematics and computer science that are recognized by many prestigious universities. IMACS also offers math and computer enrichment classes at its US centers in Florida, North Carolina, Missouri, and Connecticut. Over 4,500 students throughout the US and the world attend local IMACS classes or study its online courses. For more information on IMACS visit www.imacs.org.
Contact
For Ladies Learning Code:
Laura Plant, Co-Executive Director
laura@ladieslearningcode.com
416-579-9809
For IMACS:
Natasha Chen, Communications Director
nchen@imacs.org
954-791-2333

Comments Off

on Ladies Learning Code Partners with IMACS to Award over $3,000 in Computer Science Scholarships to Girls