---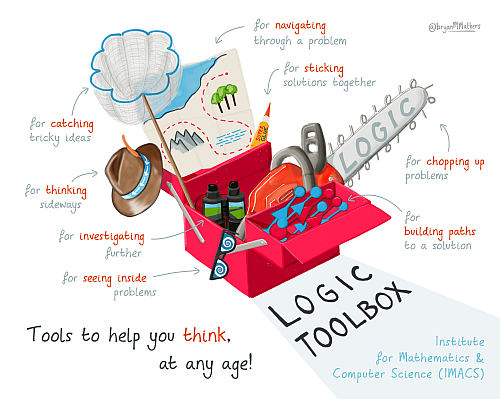 Toolboxes are handy things to have around, especially when they are filled with useful tools. A maker might include a hack saw, hammer and soldering iron in her toolbox. A musician might include a metronome, pitch pipe and recording device in his toolbox. What would you find in the toolbox of a problem solver? Many things, to be sure, but among them is likely to be an array of logical reasoning skills.
Logic promotes clarity of thought in understanding ideas. As the complexity of our world increases, each of us will face a growing number of unfamiliar and challenging situations. The shift to a knowledge-based economy keeps progressing. The significant decisions we must make keep multiplying. People are needing to think critically more and more but with less and less time and information. In a world such as this, logical reasoning is a powerful skill that can help a person sort through the noise and think clearly. When faced with new and difficult questions, the experience of having solved hard problems with logical thinking can be the difference between a panicked "Where do I even begin?!" and a calm "Let's see where to begin."
For example, you might start by looking at the problem from different angles to see what's inside. Investigate further as you anticipate obstacles and how they might affect your analysis. Then build a mental map to help you navigate your way. What are the different paths you can take? As you develop a feel for the problem, divide it into more manageable pieces. Working your way through the pieces will likely require sideways thinking with creative approaches and capturing those tricky insights that flutter in and out of focus. Connect the dots as you build a way forward. When you've got all your pieces solved, glue them together for a complete solution!
People who learn to think logically are simply better equipped to analyze complex problems. From Brexit to antibiotic-resistant bacteria, unanticipated developments often lead to unprecedented situations that leave many smart, experienced people wondering what to do. Solving problems does not stop at the schoolhouse door. It is when you step into the "real world" that, if you are fortunate, the most interesting and difficult problems present you with opportunities throughout your life to make a meaningful difference. What will be in your child's toolbox when those opportunities arise?