---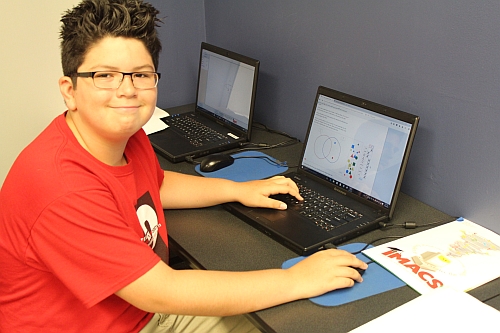 Broward County Public Schools (BCPS) is increasing the number of middle school students enrolled in the Elements of Mathematics: Foundations (EMF) curriculum from 40 to several hundred students over the next several years. EMF was created for mathematically talented children by the Institute for Mathematics and Computer Science (IMACS), an independent teaching and educational research institute based in South Florida.
EMF is an online curriculum that teaches pre-algebra through pre-calculus plus several more advanced subjects in just three years. Graduates will be ready to study Advanced Placement calculus in ninth grade. The program also happens to cover Florida's math standards for sixth, seventh and eighth grades, which allows BCPS to offer EMF as a complete math curriculum for the District's middle school students.
"BCPS wants our students to have the very best preparation in mathematical thinking and complex problem-solving," explains Guy Barmoha, Director of the Math, Science, and Gifted Department for BCPS. "The EMF pilot was a success, and the self-study, online format makes it relatively easy to scale up, even for a large school district like ours." Schools and districts interested in using EMF should contact IMACS directly.
A survey of current BCPS/EMF parents found the following:
100% of respondents said that their child's focus, study skills, and ability to analyze complex problems have improved since beginning EMF.
92% believe that EMF has made their child more ready for high school and college mathematics.
92% report that their child enjoys doing EMF and finds EMF challenging.
Nearly 90% of last year's BCPS/EMF class of sixth graders elected to continue in seventh grade. Wendy Diaz, whose son will continue, has seen EMF ignite a passion for learning within him: "Corbin comes home excited to see what is next in EMF. He absolutely wants to excel at everything now that he has seen how much fun it can be to learn."
More than 70 incoming sixth graders hope to qualify for the program this fall. Matt and Amy Kaufman, whose daughter Olivia will continue in the program, understand why: "EMF provides an avenue for children to stretch themselves mathematically. The feeling of accomplishment our daughter has received bolstered her confidence and has her ready for whatever comes her way."
With EMF, talented children can study college-level math such as Number Theory, Abstract Algebra and Probability & Statistics. "EMF teaches very advanced mathematical concepts, yet the presentation and problem sets are designed in a way that allows middle school kids to learn the material online," noted Maxim Chekmasov, who holds a Ph.D. in mathematics and whose son Andrei is in the program.
"BCPS has done an admirable job with its current gifted math program," said IMACS president Terry Kaufman. "Still, there are some kids who need an even greater challenge. I appreciate the trust that the BCPS has put in IMACS to provide a world-class education for its students and am thrilled that many more will benefit from EMF in the coming years."
About IMACS
The Institute for Mathematics and Computer Science (IMACS) is an independent teaching and educational research institute with centers in South Florida, North Carolina, St. Louis, and Connecticut. Over 4,500 students from across the US and around the world attend local IMACS classes or study its online courses. For more information, visit imacs.org or elementsofmathematics.com.
About Broward County Public Schools
Broward County Public Schools (BCPS) is the sixth largest public school system in the United States and the second largest in the state of Florida. BCPS is Florida's first fully accredited school system since 1962. BCPS has over 265,000 students and approximately 175,000 adult students in 238 schools, centers and technical colleges, and 103 charter schools. BCPS serves a diverse student population. Students are from 208 different countries and speak 181 different languages. For more information about BCPS, visit browardschools.com.

---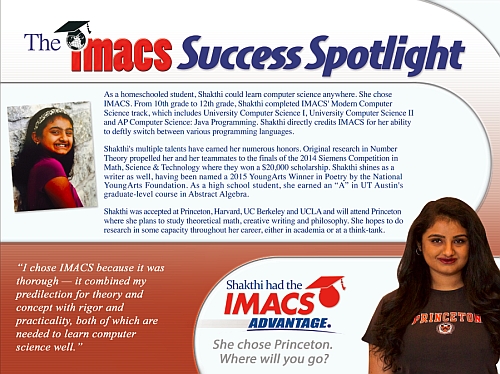 As a homeschooled student, Shakthi could learn computer science anywhere. She chose IMACS. From 10th grade to 12th grade, Shakthi completed IMACS' Modern Computer Science track, which includes University Computer Science I, University Computer Science II and AP Computer Science: Java Programming. Shakthi directly credits IMACS for her ability to deftly switch between various programming languages.
Shakthi's multiple talents have earned her numerous honors. Original research in Number Theory propelled her and her teammates to the finals of the 2014 Siemens Competition in Math, Science & Technology where they won a $20,000 scholarship. Shakthi shines as a writer as well, having been named a 2015 YoungArts Winner in Poetry by the National YoungArts Foundation. As a high school student, she earned an "A" in UT Austin's graduate-level course in Abstract Algebra.
Shakthi was accepted at Princeton, Harvard, UC Berkeley and UCLA and will attend Princeton where she plans to study theoretical math, creative writing and philosophy. She hopes to do research in some capacity throughout her career, either in academia or in a think-tank.
"I chose IMACS because it was thorough — it combined my predilection for theory and concept with rigor and practicality, both of which are needed to learn computer science well."

---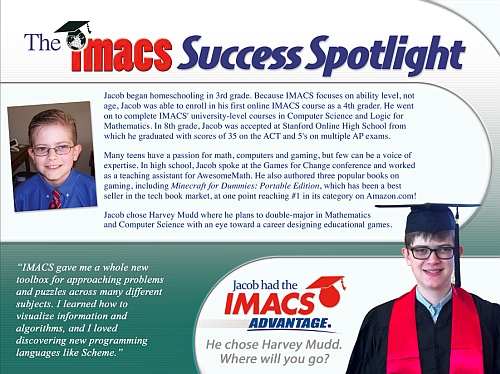 Jacob began homeschooling in 3rd grade. Because IMACS focuses on ability level, not age, Jacob was able to enroll in his first online IMACS course as a 4th grader. He went on to complete IMACS' university-level courses in Computer Science and Logic for Mathematics. In 8th grade, Jacob was accepted at Stanford Online High School from which he graduated with scores of 35 on the ACT and 5's on multiple AP exams.
Many teens have a passion for math, computers and gaming, but few can be a voice of expertise. In high school, Jacob spoke at the Games for Change conference and worked as a teaching assistant for AwesomeMath. He also authored three popular books on gaming, including Minecraft for Dummies: Portable Edition, which has been a best seller in the tech book market, at one point reaching #1 in its category on Amazon.com!
Jacob chose Harvey Mudd where he plans to double-major in Mathematics and Computer Science with an eye toward a career designing educational games.
"IMACS gave me a whole new toolbox for approaching problems and puzzles across many different subjects. I learned how to visualize information and algorithms, and I loved discovering new programming languages like Scheme."

---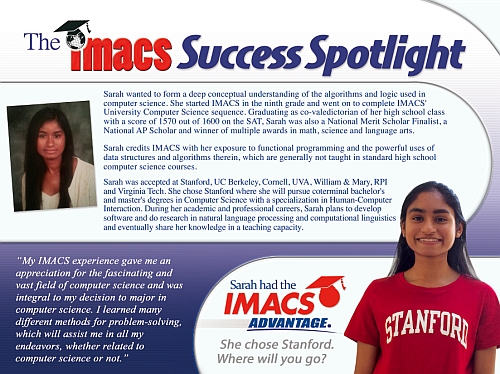 Sarah wanted to form a deep conceptual understanding of the algorithms and logic used in computer science. She started IMACS in the ninth grade and went on to complete IMACS' University Computer Science sequence. Graduating as co-valedictorian of her high school class with a score of 1570 out of 1600 on the SAT, Sarah was also a National Merit Scholar Finalist, a National AP Scholar and winner of multiple awards in math, science and language arts.
Sarah credits IMACS with her exposure to functional programming and the powerful uses of data structures and algorithms therein, which are generally not taught in standard high school computer science courses.
Sarah was accepted at Stanford, UC Berkeley, Cornell, UVA, William & Mary, RPI and Virginia Tech. She chose Stanford where she will pursue coterminal bachelor's and master's degrees in Computer Science with a specialization in Human-Computer Interaction. During her academic and professional careers, Sarah plans to develop software and do research in natural language processing and computational linguistics and eventually share her knowledge in a teaching capacity.
"My IMACS experience gave me an appreciation for the fascinating and vast field of computer science and was integral to my decision to major in computer science. I learned many different methods for problem-solving, which will assist me in all my endeavors whether related to computer science or not."

---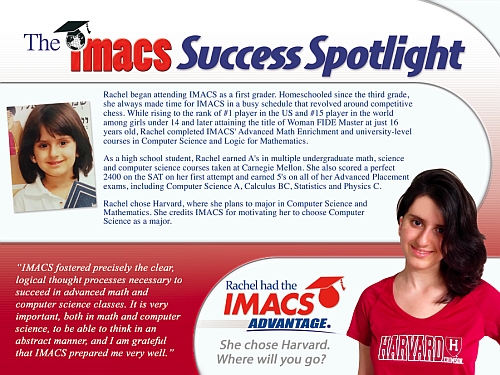 Rachel began attending IMACS as a first grader. Homeschooled since third grade, she has always made time for IMACS in a busy schedule that revolved around competitive chess. While rising to the rank of #1 player in the US and #15 player in the world among girls under 14 and later attaining the title of Woman FIDE Master at just 16 years old, Rachel completed IMACS' Advanced Math Enrichment and university-level courses in Computer Science and Logic for Mathematics.
As a high school student, Rachel earned A's in multiple undergraduate math, science and computer science courses taken at Carnegie Mellon. She also scored a perfect 2400 on the SAT on her first attempt and earned 5's on all of her Advanced Placement exams, including Computer Science A, Calculus BC, Statistics and Physics C.
Rachel chose Harvard, where she plans to major in Computer Science and Mathematics. She credits IMACS for motivating her to choose Computer Science as a major.
"IMACS fostered precisely the clear, logical thought processes necessary to succeed in advanced math and computer science classes. It is very important, both in math and computer science, to be able to think in an abstract manner, and I am grateful that IMACS prepared me very well."
Related Blog Posts:

---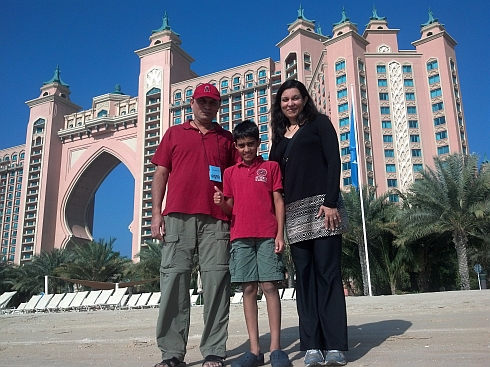 When fewer than 1% of 2014 college-bound high school seniors attain a perfect 800 on the math section of the SAT, you know that you've met someone special when he's achieved that amazing feat before even cracking the teen years. That someone is Shiva Oswal, a precocious 11-year-old from Northern California who recently earned that lofty score as part of a program through Johns Hopkins' Center for Talented Youth (CTY) called the Julian C. Stanley Study of Exceptional Talent (SET). In fact, the probability of an 11-year-old earning a perfect score is less than 0.01%!
According to its website, SET "was created to help extremely talented students achieve their full potential, and, through its research and advocacy initiatives, to enhance the educational opportunities available for all academically advanced students." Those who qualify through their SAT scores gain access to individualized educational counseling and opportunities to connect with mentors and intellectual peers.
How did Shiva do it? The multi-talented board game designer and aspiring professional soccer player mostly studied on his own by taking SAT practice tests. He kept acing the math section at home, so he felt confident that he had done equally well on the real thing, and indeed, he had. (By the way, Shiva is happy with his performance on the Critical Reading and Writing sections too!) His parents, Arvinder and Vikas, are extremely proud, but they also realize the magnitude of the journey known as raising Shiva.
The Moment You Know Your Child is Gifted
When Shiva was around two years old, his parents noticed that he was able to master abstract concepts and make many logical connections. He often saw patterns and anomalies that others overlooked. For example, having observed that cars had license plates with letters and numbers, he was quick to notice a car with an all-numeric license plate and proceeded to ask numerous questions to understand why. The same thing happened when later that week he saw a car with just letters on its license plate.
As with many gifted children, Shiva enjoys probing a subject thoroughly and persistently asks questions in an attempt to acquire deeper knowledge. "How fast can a cheetah run?" "What will happen if it fights an elephant?" "Is a cheetah faster than Spiderman?" These are just some of the questions that his mother, Arvinder, remembers from a time when two-year-old Shiva was intensely passionate about the swift, spotted feline.
By age four, Shiva was solving math problems in his head. When his preschool teacher asked the class how many hundreds make a million, Shiva promptly responded with the correct answer, 10,000, even though he had never been exposed to the concept of multiplication. At that point, Arvinder and Vikas, were certain that their son was gifted. "We felt a sense of responsibility and were quite unprepared to deal with the needs of a relentlessly curious and intensely gifted child," recalls his mother.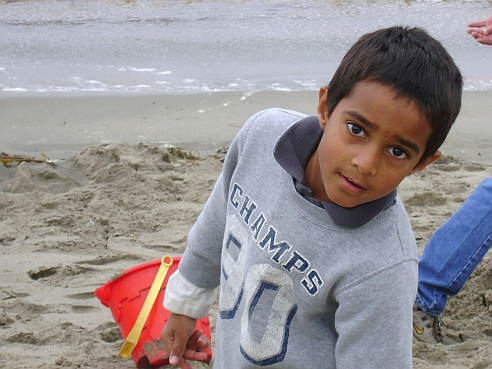 From School to Homeschool
As residents of the Silicon Valley area, the Oswals have access to some of the best schools, public or private, in the United States. During the first few weeks of kindergarten, Shiva was very excited to go to school and usually sat in the front row, eager to learn. Over time, the limited intellectual stimulation led to a decline in his interest in school. By the end of second grade, Shiva frequently announced that lunch and recess were about the only things he looked forward to at school. This is when his parents knew that they needed to look for alternatives.
"While schools did the best they could, they were neither adequately prepared nor widely exposed to what it takes to meet the needs of the gifted child and hence lacked the ecosystem to adequately challenge the gifted mind," explains Arvinder. After a few months of intense reflection and research, they concluded that homeschooling would probably best suit Shiva.
One of the key benefits of homeschooling is the ability to customize an education specific to a child's passions. Of course, homeschooling has hurdles too. As Shiva's mom describes, "The primary challenge is that most of the research (to design an optimal experience) rests on the shoulders of parents because designing a sufficiently challenging and engaging learning experience requires an intimate knowledge of the individual child's passions and strengths."
Resources for Gifted Students
Meeting the educational needs of an extremely bright but young person such as Shiva is no easy task. For his parents, the main difficulty is to continuously find resources of increasing complexity and to pursue these without extinguishing the love of learning. Balance and a sense of what truly matters in life act as guiding principles. "Our hope is that Shiva lives a joyful and fulfilling life while pursuing his passions to the fullest, and we hope he is minimally affected by extraneous factors such as the pursuit of wealth, fame or approbation."
The Oswals have found that the most relevant resources for Shiva have been either online or in classes with small groups of passionate, gifted kids with shared interests.
Online Resources for Gifted Students
"Self-paced, online programs such as Elements of Mathematics: Foundations from IMACS are uniquely suited to adequately challenge the mathematically gifted," shares Arvinder. "Our son loves EMF as it allows him to accelerate at his own pace and level up accordingly."
Other online programs that have worked for Shiva include Guinevere's Gifted Group also known as Online G3. G3 classes are grouped by skill level rather than chronological age to allow asynchronous learners to accelerate as needed. Shiva also loves the Druidawn creative writing program, which taps into "the multidimensional and kaleidoscopic world that resides within the gifted mind."
Live Resources and Events
In addition to online courses, Shiva has benefited from small, live (or live streamed) classes. He loves attending classes taught by Dr. Lucian Sega who encourages gifted students to engage in sustained, rigorous mathematical pursuits. As Vikas and Arvinder explain, "Dr. Sega's ability to make a broad range of advanced, often abstract mathematical concepts crystal clear is stunning. We find ourselves wishing we could travel back in time to restart our own secondary math education with him!"
For introducing a wide range of math concepts in an engaging way, the Oswals are grateful to Yul Inn of the Fun Math Club. Another extraordinary educator and entertainer who has taught the Oswals much is Dr. Arthur Benjamin. "Our family has enjoyed his Mathemagics shows numerous times. Each time we've watched him in action, we gained a new insight, a heightened love for learning or both!"
Other Important Resources
Additional resources can be found through support organizations such as Gifted Homeschoolers Forum, the Davidson Institute for Talent Development, Hoagies' Gifted Education Page, the TAGMAX listserv and the National Association for Gifted Children.
The Journey
The responsibility of nurturing a young, gifted child takes heartfelt dedication and constant work to continually build an ever-evolving system of resources and support. It is, without a doubt, a labor of love as only a parent can know it, both the wonderful strides and the worrisome stress. But it is all part of a unique path that each family with a child like Shiva must forge together.
As Shiva's mom put it beautifully, "An important part of what we do has to do with 'the journey'. The journey has not been delegated. The fondest part is that we are traveling on this journey together. We are constantly amazed at how far a child can go when allowed to freely pursue a passion-centric learning approach. It's been a joy to see Shiva surprise us every day with out-of-the-box solutions. We are very grateful for all that we are learning together as a family because we often satisfy curiosities rather than march to fulfill an external mandate or to earn a grade."
Editor's Note: Shiva's parents granted IMACS permission to disclose his status as a Davidson Young Scholar and as a participant in the CTY SET program.

---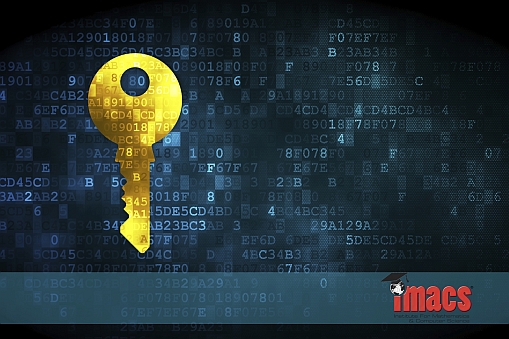 The Institute for Mathematics and Computer Science (IMACS) recently released its first online algebra course, Algebra: Groups, Rings and Fields. This is the tenth course in the Elements of Mathematics: Foundations (EMF) program for talented secondary school students. Our latest self-paced offering has generated a fair amount of inquiries from parents seeking options for their mathematically advanced child. The answers to some of those questions can be found in the FAQ at EMFmath.com. IMACS responds to others, which have been consolidated by topic, in this week's blog post.
Q: My child aced pre-algebra and is ready for algebra. Why can't I just enroll her in the first EMF algebra course?
When people use the term "algebra," they're usually talking about high school algebra or what mathematicians call "elementary algebra." By contrast, EMF teaches the kind of algebra that a mathematics major at university learns called "abstract algebra." A student who has mastered pre-algebra is, no doubt, ready for high school algebra. However, this same student, no matter how talented, is simply not ready to jump directly into abstract algebra.
Why? Just as success in high school algebra is built on the foundation laid by elementary school math up through pre-algebra, success in abstract algebra requires a strong foundation in various mathematical structures and reasoning techniques that are rarely taught outside of a university setting. This important foundation is built up through the first nine courses of the EMF program. In fact, one might think of these early courses as constituting "pre-abstract algebra." As such, they are an integral part of the EMF program and essential to success in the later courses.
In case you're wondering, students who complete the EMF algebra courses will have learned all of elementary algebra and be able to solve any high school algebra problem with ease. But they will also have learned a great deal more and be well-prepared to study the high-level mathematics that is at the heart of important disciplines such as particle physics and cryptography.
Q: What if my child already took high school algebra and geometry? Is there anything left for him to learn in EMF?
As IMACS principal founder and EMF co-author, Burt Kaufman, once wrote, "It is surely a sad state of affairs that in the traditional high school curricula, the student encounters very few, if any, mathematical ideas that postdate the seventeenth century. … It would be ludicrous if an English curriculum for the high school never contemplated confronting the student with a piece of literature written after Shakespeare."* That's one key reason why the EMF curriculum was created—to teach modern mathematics to talented, young students who are capable of benefiting from advanced material that goes beyond the outdated math curricula used in schools.
Naturally, more experienced students will find some of the EMF material familiar, but EMF approaches these topics from a far more sophisticated standpoint. Between the new mathematical structures and techniques for reasoned argument that they will be learning, there is much for these students to gain in EMF if they are motivated to learn real mathematics as opposed to just school math.
Q: We tried other math programs for advanced kids, but they just seemed to be about going faster or preparing for competitions. That's not working for our son who's more of a deep thinker. I've heard that EMF takes a different approach. Can you explain?
First, a pair of quotes:
""ËœI wasn't the fastest guy in the world,' Dr. Simons said of his youthful math enthusiasms. "ËœI wouldn't have done well in an Olympiad or a math contest. But I like to ponder. And pondering things, just sort of thinking about it and thinking about it, turns out to be a pretty good approach.'"
—
Jim Simons
, Mathematician and Founder of Renaissance Technologies
"I work with a lot of mathematicians, and one thing I notice about them is that they are not particularly fast with numbers; in fact some of them are rather slow. This is not a bad thing; they are slow because they think deeply and carefully about mathematics."
—
Jo Boaler
, Professor of Mathematics Education, Stanford University
The competition-inspired approach to math has its merits. But it's hardly the only approach worthy of mathematically talented kids. The gifted population is filled with individuals who have exceptional talent and prefer to take their time. EMF is an ideal option for these students because the program is self-paced and encourages patience in coming to a deeper understanding of complex and beautiful ideas. At the same time, we've had numerous EMF students who also enjoy and excel at competition math. In fact, in situations where speed is of the essence, the non-standard mathematics to which EMF students are exposed gives them a distinct advantage over others who are seeing these ideas for the first time during a competition.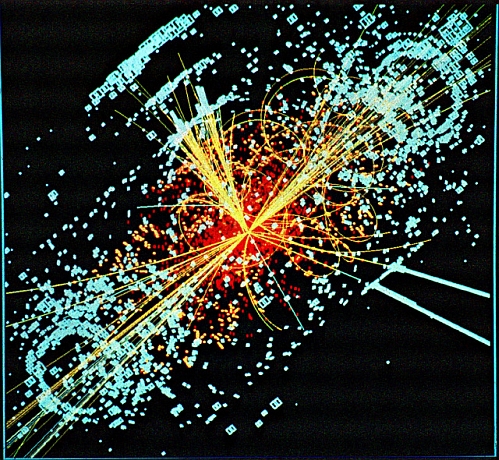 Q: You say that EMF is "mathematician math," and that it's taught the way a math major at university would be taught. That's nice, but what are the benefits for a talented child who has no interest in being a math major, let alone a mathematician?
Before your child writes off being a math major completely, especially if that choice is based on experiences with school math, consider the following:
"For sure, or almost for sure, if you've come out of the high school you haven't got a clue what mathematics is. Which is why when students come out of the high school and get to university to major in mathematics, they have one really disturbing first semester or first term because they discover it's not at all what they liked. It's some time during that period when many high school math whizzes drop out and do computer science or engineering or something else, and the occasional arts major or classicist major intended suddenly gets turned on to mathematics when they discover it's a creative discipline that allows their creativity to really come out in different ways, and it's challenging intellectually, and then they get turned on to mathematics."
—
Keith Devlin
, Professor of Mathematics, Stanford University
Whether your child decides to pursue a math major or not, there are several important skills that the EMF approach to mathematics teaches. As with all IMACS programs, EMF fosters the development of logical reasoning skills in young students. While some people believe that logic is cold and inhibits creativity (think: Star Trek's Spock!), our experience teaching the EMF curriculum over the past 30+ years suggests otherwise. To the contrary, we have found that when IMACS students are equipped with the logic skills to construct their own well-reasoned arguments and critique those of others, the clarity of thought that this produces unleashes creative and innovative ideas that were previously unfocused or muddled.
Which brings us to how EMF encourages creative thinking. As Professor Devlin reminds us, mathematics is a creative discipline. The fact that what passes as "math" in schools is devoid of creativity should not be taken as evidence that true mathematics is indifferent to creative thinking. School math tends to take a "tell-then-drill" approach where the teacher states a rule and then students apply the rule to umpteen haphazard problem sets. By contrast, EMF uses carefully constructed exercises and interactive technology to guide students to their own "discovery" of mathematical results. To be successful in EMF, a student simply must think creatively in order to cross the bridge from keen mathematical observations to the "A-ha!" moments of intuitive understanding. And when these moments happen, the joy and pride of having climbed the intellectual mountain are profound.
Another skill that EMF promotes is abstract thinking. Imagine a world in which most jobs involve people interacting with tangible objects in the present. Perhaps you envisioned the Industrial Revolution, a time when mechanical inventions led to an explosion in manufacturing. Today, we find ourselves amidst a Knowledge Revolution wherein technological inventions mean that well-paying jobs require abstract thinking about intangible ideas such as code. This is obviously true in tech, but because tech touches every industry now, it's also true for wide-ranging fields from medicine to music to law to film. It's the question on many people's minds: Are you going to design and program the robot, or will you be replaced by the robot? Whatever career your child pursues, he or she will almost certainly need to think abstractly. Abstract thinking is fundamental to the study of genuine mathematics, which is what EMF teaches.

Is EMF right for your child? IMACS created a 30-minute, online Aptitude Test to help prospective parents and students answer this question. Register to take the FREE test at EMFmath.com.

* Kaufman, Burt, Jack Fitzgerald, and Jim Harpel. MEGSSS in Action. St. Louis: CEMREL, Inc., 1981.

---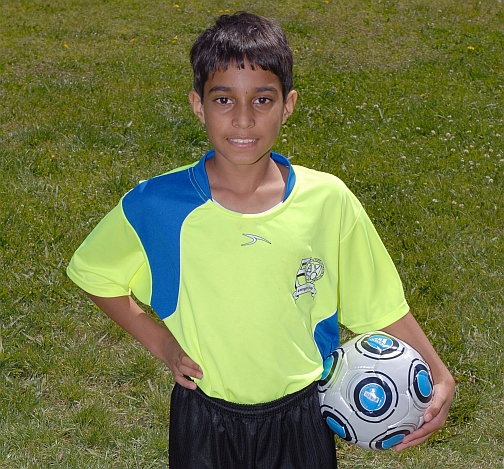 This month's IMACS Blog features Shiva Oswal, one of the top performers in our Elements of Mathematics: Foundations (EMF) self-paced, online program for talented secondary school students. Shiva has been enrolled in EMF since the beginning when IMACS introduced the first course of the series in late 2012. As his mom told us, "[O]ur son is an avid user of online educational resources. I recently asked him to pick his favorite online course. He answered, 'most definitely EMF, by a wide margin'."
Please tell our readers a little bit about yourself and what you enjoy doing.
I'll be turning 11 soon, and I love the EMF courses! As a history buff, I really enjoy reading about decisive battles in world history. I also like playing board games and computer games. Right now my favorite board game is Robo Rally, and my favorite computer game is Castle Empire. On the weekends, I participate in Live Action Role-Playing (LARP) events. Soccer is another activity I enjoy. My favorite position is goalie.
You've done some amazing things already at a young age. Tell us about the accomplishments of which you are most proud.
This year, I scored 24 out of 25 to earn a gold pin in the Mathematical Olympiads for Elementary and Middle Schools (MOEMS), and was named MOEMS "Mathlete of the Year" for my geographic region. I also invented a new board game called "Minetrap". I am currently working on publishing my game. If you would like updates, email me at shivarasul [at] gmail [dot] com. Finally, I completed the first seven EMF courses and am almost finished with the eighth course. I am excited to start the ninth course, Number Theory soon.
How did you become interested in mathematics?
When I was in preschool, I was doing multiplication. When math in regular school became too easy, I decided to homeschool so I could work on challenging math problems and concepts.
How did you become interested in taking EMF courses?
My mom encouraged me to try the EMF courses, and I've been hooked ever since.
What are the things you enjoy most about EMF?
I like the way concepts are explained. The format of EMF courses, reading followed by exercises, helps check my understanding. The interactive tools such as The String Game make learning math fun. Also the point system (i.e., ability to level up based on mastery of material) makes EMF addictive.
What are some ways in which your EMF experience has had a positive effect on your academic and non-academic pursuits?
When I did my first EMF course, Operational Systems, I was very new to the field. I learned a great deal about operational systems and modular arithmetic after I completed this course. I have grown by leaps and bounds as an analytical thinker as EMF courses force me to think. The program has also helped me improve my skills at strategy games like chess.
What kinds of things do you see yourself doing in the future?
First and foremost, I would like to complete all 15 EMF courses. I hope to get to Calculus before I'm 13 years old. I am also working on becoming a professional soccer player.
Thank you, Shiva, for sharing your story and congratulations on your amazing accomplishments!
Discover why the Elements of Mathematics: Foundations program from IMACS is an excellent option for your mathematically talented middle-school-aged child.
Half Price Holiday Sale: Try the first course, Operational Systems, at 50% off the regular price when you enroll on or before December 20, 2014.
Bundled Savings: Save 25% on EMF Course Pack 9, which includes the first nine courses, when you enroll on or before December 20, 2014.

---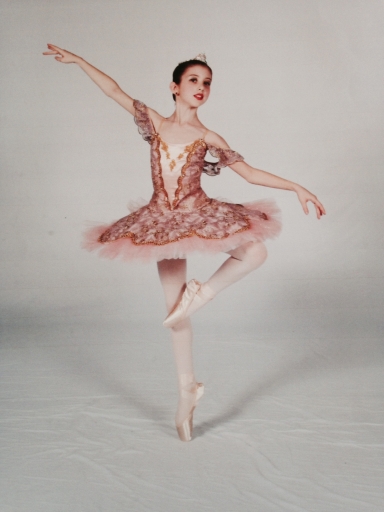 This month the IMACS Blog caught up with Azzara Nincevic, who has been a star student at IMACS for seven years now. Azzara enjoys reading, drawing, and classical ballet. Although she dances at least 12 hours per week and performs throughout the year, she always finds time for IMACS.
"When I began IMACS in first grade, I immediately loved it." Azzara says. "Having taken an interest in math, I quickly learned the traditional material and was looking for more challenging enrichment. When I attended class at IMACS, all of the problems were thought-provoking."
As a member of her school's math team, Azzara attends competitions such as MATHCOUNTS and Mu Alpha Theta where her IMACS background has been an invaluable asset. As Azzara describes it, "The IMACS curriculum helped me to develop logical thinking skills and the ability to quickly solve math problems, which are key to succeeding at math competitions."
"With the preparation that IMACS gave me, I was able to score a 5 on the AP® Computer Science exam as a seventh grader."
While Azzara's achievements in mathematics and ballet, by themselves, are enough to impress anyone, it's her recent performance on the AP® Computer Science A exam that readers will recognize as a rare feat. Soon after starting IMACS Math Enrichment program, Azzara enrolled in our Computer Enrichment & Virtual Robotics class where she developed a great interest in programming. Over the years, she continued with IMACS University Computer Science (UCS) track, which culminates in our AP® Computer Science: Java Programming course.
AP® exams are typically administered to high school students, but at the time that Azzara was ready for APCS, she was only just entering seventh grade. That didn't deter her. "After inquiring, my mom and I found out that there is no minimum age requirement for an AP® exam, so I registered. With the preparation that IMACS gave me, I was able to score a 5 on the AP® Computer Science exam as a seventh grader."
With such a busy schedule, Azzara appreciates that one of the greatest benefits of IMACS is that the computer science and logic programs are accessible online and self-paced. "I was able to excel at my own pace and access the IMACS curriculum anytime and anywhere."
What does the future hold for Azzara? "I am entering the eighth grade with a greater passion for and interest in math and computer science. IMACS made me realize that I would like to pursue computer science in college and after. The fundamental skills that I have learned in the UCS courses and the logical thinking skills I have learned in the Math Enrichment and Mathematical Logic courses give me the advantage I need to be successful. As such, I plan to continue with IMACS in the upcoming years."

---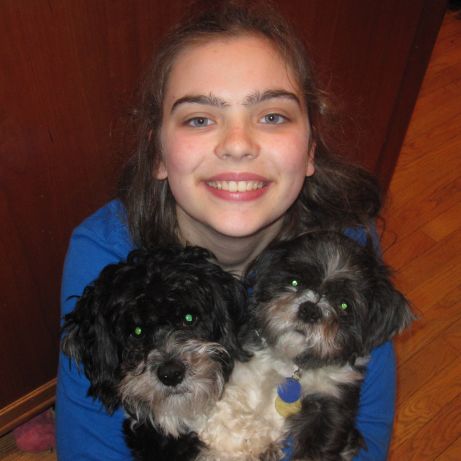 This month the IMACS Blog speaks with IMACS student, Fiona Brady. According to Fiona's mom, Susan, "IMACS was the first time Fiona had encountered a community of teachers and learners who were excited to hear her ideas and creative ways of problem solving." After the Brady family moved out of the area, Fiona continued taking courses through our distance-learning program, eIMACS.
Having studied University Computer Science and AP® Computer Science through eIMACS (and scoring a 5 on the AP® exam), Fiona was able to pick up the Python programming language* when she encountered it at a summer mathematics camp at the University of Chicago with students several years older than she.
For students as talented as Fiona, homeschooling and early college courses often make the most sense as they and their families seek educational options that provide enough challenge, flexibility and inspiration to help them reach their highest potential. Let's hear what Fiona has to say about pursuing this path:
Please tell our readers a little about yourself.
I'm turning sixteen this fall and I'm in tenth grade. I'm a second degree black belt in Tae Kwon Do, and I enjoy figure skating and horseback riding. I don't feel like this gives a real image of me, but there it is. I enjoy making things with cardboard and duct tape, but definitely not wallets. I've made my Halloween costumes for the last few years. The year before last, I was Medusa. I wore a snake hat that I built in my bedroom and needed to turn sideways to get out. I have since learned that on some occasions it is important to get dressed outside of your room. When I'm not doing math, I love reading.
You are homeschooled and also taking college classes at Northwestern University. What is it like to do both? How do you balance the academic workload, extracurriculars and time with friends and family?
Homeschooling is not like regular school because there is no large division between having fun and learning. So I don't balance it. However, when I have a large assignment due, my mom probably doesn't see me for two days. My extracurricular activities — skating, horseback riding and Tae Kwon Do — force me to do something active. I also enjoy volunteering at the barn where I ride because they work with children with special needs. Our three dogs keep me pretty busy too, especially my own puppy, Mole (named because the white fur around his nose made him resemble a star-nosed mole when I first got him).
What circumstances led you to take university classes?
I have always liked math, so I started taking more than one math class a year. In my eighth grade year I took five. After that, I sort of ran out of other options. I participate in the University of Chicago's Young Scholars Program, which is led by Professor Paul Sally. He and others at Chicago gave me advice and helped to set up a meeting with the head of the Northwestern Math Department, Professor Mike Stein. Professor Stein gave me permission to sit in on the courses, and introduced me to the professors.
Which classes are you taking at Northwestern? How did your IMACS courses prepare you for those classes?
Last year I took a course on Abstract Algebra and one on Multivariable Calculus and Linear Algebra. This year I am taking Physics and Analysis. IMACS was the first place where I encountered the idea that to learn something you have to own it; that is, you have to be able to form a picture of it in your head, and you need to be able to construct it from basic principles. In the IMACS computer science classes I took, you really needed to do that, otherwise you would get lost in the middle of writing a program and forget what you were doing. IMACS Logic for Mathematics is a continuation of that because it is constructing the basic principles of mathematics, which are skipped over in most high school classes (but assumed to be known in college courses).
[Editor's Note: Three years running, Fiona has received the award from the Northwestern Mathematics Department for outstanding achievement in mathematics by a high school student.]
What advice would you give to young students who are thinking about taking university classes before they officially enter college?
Ask your teacher questions. I've had people in classes ask me questions, instead of asking the teacher. That's a really big mistake, and it's an even worse mistake to make in college because the professors are amazing. One of the things I most admire about the professors I've had at Northwestern is the unshakably solid understanding they have of the material. Also, if your professor asks the class a question and you think you know the answer, you should raise your hand. Even if your answer is not correct, that just gives you the opportunity to ask a question and figure out what you don't understand before you try to learn something that builds on it or have a test.
What do you see yourself doing in the future?
I have three more years before I go to college and I want to keep taking classes and learning more. Being a professor sounds like an interesting career. (Being a stuntman does, too, but I don't think I'll pursue that.)
*IMACS added Python to University Computer Science II in November 2012 after Fiona had completed the course.

« Newer Posts
—
Older Posts »