---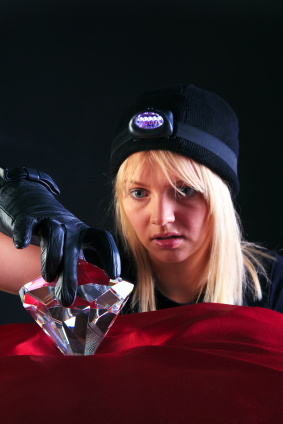 Note: This story is adapted from the IMACS "Elements of Mathematics" series of textbooks and is based on modular arithmetic. This topic is typically covered in the first year of EM, which is often taught to talented 6th graders. The solution is revealed at the end of this post, so don't scroll down too far if you want to avoid the spoiler!
The Stolen Jewel of Rainsmore
In the town of Rainsmore someone has stolen a precious jewel. A very famous detective, Roy Henshaw, has been called in to solve the crime. After a great deal of questioning, Detective Henshaw has narrowed the number of suspects to a small group.
Late Wednesday night Henshaw seats the suspects around a table and begins questioning with Mr. Steel. Then he questions Mrs. Cook.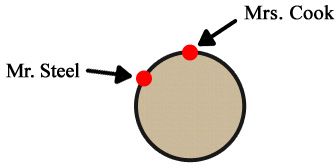 After Mrs. Cook has been questioned, Henshaw continues around the table in order, being very careful to skip no one and to ask each person a different question.
The questioning continues through the night with Henshaw getting closer to finding the thief.
By 5:00 in the morning Henshaw has asked hundreds of questions and, being such a famous detective, he has kept track of which questions each suspect has answered:
Mr. Steel has answered questions 1, 8, and 15.
Mr. Gunn has answered questions 3, 10, and 17.
Mr. Decker has answered questions 12, 19, and 26.
Mr. Jones has answered questions 11, 18, and 25.
Mrs. Cook has answered questions 2, 9, and 16.
Henshaw now has some important questions for which he needs answers. You should answer them if you are to solve the mystery.
a) How many people were seated around the table?
b) Who answered the 4th question?
c) Who answered the 5th question?
d) Who answered the 24th question?
e) Who answered the 31st question?
f) Detective Henshaw also noted that Mrs. Tanner answered question 70 and that Mr. Night answered question 48. Which of the following pictures shows the correct seating around the table of Mr. Night, Mrs. Tanner, and Mr. Decker?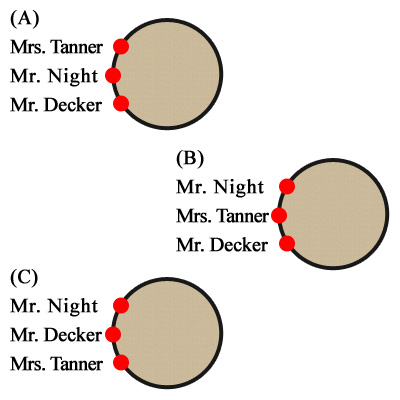 g) Aha! Henshaw now knows who the thief is. His extremely clever and searching mind has unmasked the criminal.
THE CRIMINAL IS NONE OTHER THAN THE PERSON WHO ANSWERED THE 37TH QUESTION.
Who is the thief?
Has traditional school stolen your passion for learning? Find it again with engaging courses in gifted math and computer science online from IMACS! Register for our free aptitude test. Play along with our weekly IMACS logic puzzles on Facebook.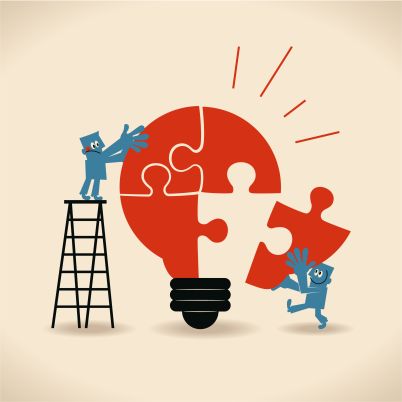 Answers:
a) Seven
b) Mr. Jones
c) Mr. Decker
d) Mr. Gunn
e) Mr. Gunn
f) Table (A)
g) Mrs. Cook